The original Wolverine has been out of action since 2014, seemingly dead and buried. But guess what? He's very much alive, had possession of an Infinity Stone, and is making the rounds big time in the Marvel U.
The best there is…
I'm a pretty big Wolverine fan. Ever since I really got into X-Men in a very big way back in the 1990s, Wolverine has been one of my favorite heroes. And I am most definitely not alone. Logan was a runaway star back then, featuring in a load of books, both alone and as a part of X-Men squads.
Since, he kind of got a bit lost, at least he had as far as I'm concerned. That lead to his untimely demise in a pretty big Marvel event book that saw Wolverine's death. He was quickly replaced by his female clone, and Sabertooth (who somehow turned face).
Neither one of them was a suitable fill-in, and you can throw Old Man Logan into that ring too. The elderly Logan from an alternate universe was slotted in the Marvel U proper, and he's still around. Where this leaves him isn't a known quantity right now, but honestly, I don't much care.
That's 'cause Wolverine is back – or he will be come April.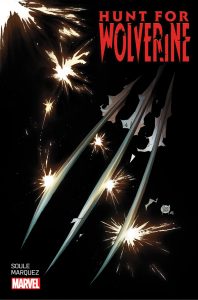 A new miniseries will launch onto the racks at that time, called Hunt for Wolverine. The book will be brought to fans from the team of Charles Soule and David Marquez. And if Soule's name sounds familiar, it should. He's the man who was tasked with "killing" Wolvie in the first place.
"Steve McNiven and I took on the incredible task of killing Wolverine back in 2014–it was one of my earliest projects at Marvel, and such a huge opportunity. Intimidating, tricky, all of that–but ultimately, I think we created a book (alongside Jay Leisten, Justin Ponsor and Chris Eliopolous) that we're all really proud of," said Soule. "There's really only one project that could top it–being part of the story that brings Logan back! THE HUNT FOR WOLVERINE is just the opening chapters of a mystery that will reach all sorts of cool hidden corners of the Marvel Universe, and will tell a story that will hopefully have us looking at Logan in an entirely new way."

"I'm really looking forward to seeing how fans start to put the pieces together," continued Soule. "There's a big payoff coming down the road, and all the interlocking parts of THE HUNT FOR WOLVERINE build to it. The more you read, the more clues you get. It's really fun–especially since I have a bit of a reputation in X-continuity for knocking off beloved mutants. This time, it's nice to be part of bringing someone back!"

"This is a game changer," added series editor Mark Paniccia. "HUNT FOR WOLVERINE #1 has a stunning revelation and the four books that spring from it will each have a mind-bending, status quo changing reveal by amazing talent that I can't wait to announce."
A quintet of stories
It's going to be a big few months for fans of Wolverine. Hunt for Wolverine #1 starts things off in April, but that single 40 page issue will spin into a quartet of stories from a quartet of creative teams in May. That'll continue one of the biggest returns in Marvel history.
And that's not even all. After that, look for Wolverine to play into Infinity. That's the sole huge Marvel event for 2018 (that we know about) and will see the mutant hero teaming (?) with a very unlikely cast to… well we don't know. But it kind of looks neat and Super Skrull is in there, so try to keep an open mind.
Yep, stay tuned folks. If you're a Logan there's a very good chance you're going to like what Marvel has in store for 2018.