The new year is here, and with it, some new Nintendo Switch games.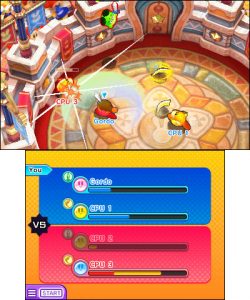 And I really do mean *some.* There is a new demo on the 3DS, and four new Switch games this week, including the mandatory Neogeo game. Take a look to see if anything interests you:
Nintendo eShop on Nintendo 3DS

Kirby Battle Royale – Demo Version – In this demo, Kirby enters a tournament against his toughest rival yet…himself! The demo allows players to try three battles in the single-player and multiplayer* modes. Try the Sword, Cutter and Beetle ability, and transfer Meta Knight and coins as a bonus to the main game once you purchase the full version! The full version of the Kirby Battle Royale game launches 

Jan. 19

 and is now available for pre-purchase in Nintendo eShop. Game in 2D.
Nintendo eShop sales:
Nintendo eShop on Nintendo Switch, Nintendo 3DS and Wii U
Also new this week:
That's it! Not too much going on, but as a huge fan of big monsters, I can assure you, I will be grabbing King of Monsters when it is available.