Not to be confused with an anime of nearly the same name, Oh My Godheads is a 4-player 3D party brawler where you and your friends battle it out with giant god heads. Use the heads of gods from various myths and legends to destroy friendships and controllers by winning multiple game modes and killing your opponents!
Gameplay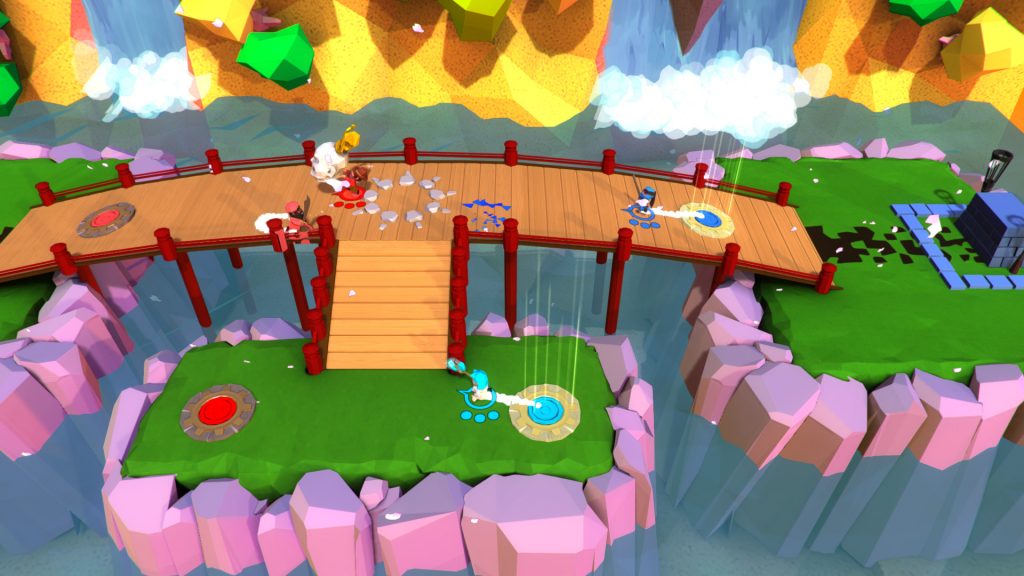 Oh My Godheads plays on a single, shared screen using a controller for each player. Players can jump, attack, deflect pies, dash, grab godheads and can do jump-attack combos. Players respawn at designated spawn points when killed depending on the game mode. Pies are throw-able bombs that are thrown certain distances depending on how the player moves and kill anyone they hit. If the player stands still the pie will be thrown a short distance but running around makes it subject to physics and relative velocity. One can deflect a pie back but it is quite difficult to pull off in an actual match where it's tough to determine the exact direction you are facing. Jumping around itself can feel sluggish. However, jump-attack combos insta-kill if they hit their target in the right spot.
The main feature of the game are the godheads. Each godhead has it's own unique ability that makes most of them hot potatoes. Hold on a head too long and you'll be frozen, exploded, drunk and a number of other displeasing things. Players can throw heads at allies and enemies which can make for quite the chaotic game. On top of that, there are items for certain game modes – and a lot of these items create an absolute hell for friends and foes. Players can be stomped on, smokescreened, exploded some more etc.
Gamemodes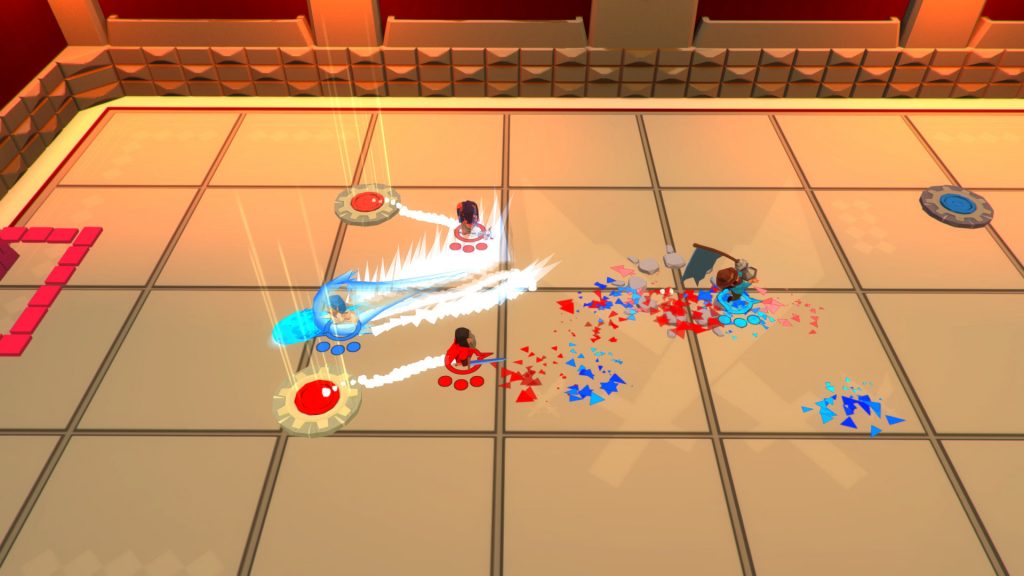 Oh My Godheads has 5 game modes that can be played, all of which have point limits which make up a win:
Capture The Head

Players must capture a god's head and bring it back to their plinth.

King Of The Head

Hold onto a head long enough to fill a gauge up which will give you points.

Headhunters

Kill as many players as required to win.

Last Man Standing
Trials

Small challenges that help you learn how to play and unlock godheads and maps.
The game modes are pretty much the bread-and-butter of most couch-party games. As simple as they are, they're done fairly well and matches can vary from being over very quickly or taking agonizingly long to finish as you and your friends play tug-of-war with the godheads.
Camera
The camera work is actually pretty well done and I must give credit where it is due. Everyone will be able to see where they are and where things are even though they are sharing the screen!
Sound
Music
The theme music for special maps is really good! Some are upbeat, pumping rhythms related to their location such as the Japanese koto coupled with taiko or a foreboding song with a siren and sticks from the Cambodian jungles. The main theme on the other hand can get quite tiresome.
Sound effects
There are a ton of things going on in each match and thankfully there's only one sound that may get annoying after awhile – Kali's gongs. Other than that, each sound is appropriate and clear enough to be heard so that you know when a godhead is about to go full-on "triggered". You get to pick from a few character models which all have their own voices too. Also, the announcer in the game sounds like Quake 3's which is neat considering you get double kills, triple kills and special sounds for last minute saves or funny deaths.
Interface
The game's interface is great. Clear, simple menus, HUDs and the ability to change maps, levels etc. at any time. I also found the options a little late but playing the game at lower graphics made it seem like an old PS2 game so I really didn't mind too much and I think that was the point behind most of the design choices.
Graphics
The graphics consist of old school low polygon-count models with crisp textures and low detail 2D cartoony overlays. It very much fits the theme they seemed to be going for.
Overall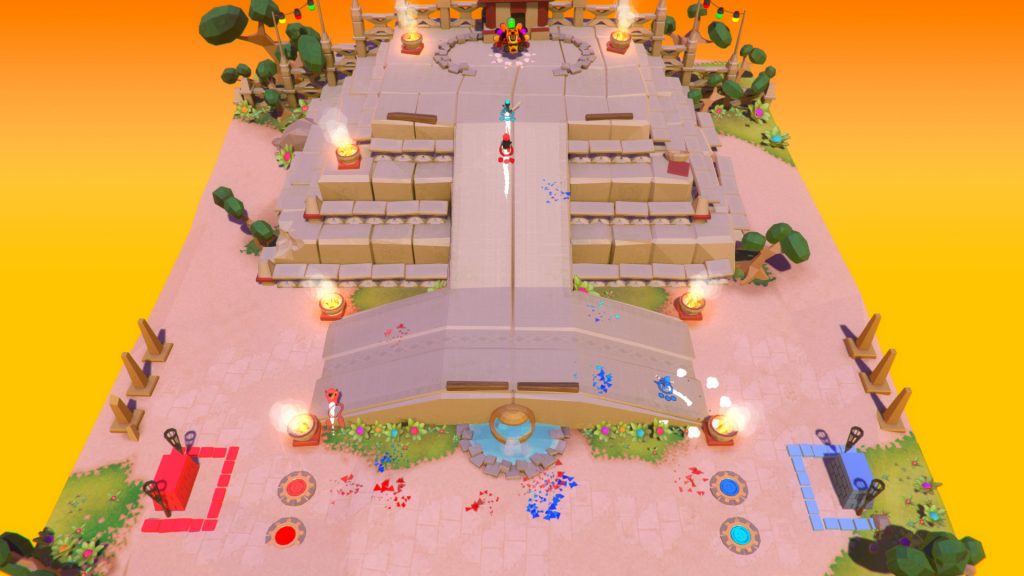 Oh My Godheads is a fast paced party brawler that will make chaos erupt on the couch as friends kill each other and become frustrated with carrying godheads all day. It's a well-rounded, simplistic game and the only nitpicks I have is some lack of clear instructions. A few godheads have some odd abilities that one must figure out for themselves and seeing an overall button mapping for controllers is non-existent. That out of the way, it's a good fun game and I enjoyed it quite a bit.
Goddammit!
Graphics - 75%
Gameplay - 80%
Sound - 75%
Simple, fun, hellish, conniving, chaotic - many words to describe a game about throwing heads around.