The Elder Scrolls V: Skyrim fans are going to have some pretty cool stuff to add to their collection in 2018.
Sights and sounds
Skyrim never seems to go away, does it? The game has become its own meme, as it just seems to keep popping up for new platforms. Most recently, it's been made available for the Switch and select VR platforms. The Switch version has actually gotten me to (finally) play it, so I guess there's a method to Bethesda's madness. But if you thought it was going to stop there, well you were wrong.
Bethesda and iam8bit have announced that the newest installment in the venerable Elder Scrolls series is about to get a cool set of collectible items. Namely, a soundtrack on vinyl, and a neat limited edition print. Both items will be arriving in the second quarter of 2018, and will be made available on iam8bit's website.
Here's what you can expect:
Skyrim Vinyl Soundtrack | $40
The legacy of Skyrim is profound, with so much owed to the atmospheric accents of its music. This JUN/KUN limited edition features:
A 2-color black haze, 180-gram vinyl with the development team's favorite tracks, separated into "Light" and "Dark" sides
An excruciatingly customized album art package from famed artist & Skyrim superfan Aled Lewis
A digital soundtrack
Skyrim Screenprint by Aled Lewis | $100
The world of Skyrim is vast, nearly impossible to contextualize in a single image. Yet acclaimed artist Aled Lewis achieves just that, illustrating a powerful and poignant faceoff between Dragonborn and Alduin, the World Eater atop the icy mountain vista.
This limited edition includes:
An epic 6-color hand-pulled screenprint, standing at a strikingly large 24×36 inches, chock-full of hidden touches, some so microscopic that you'll need to examine in-person to catch them all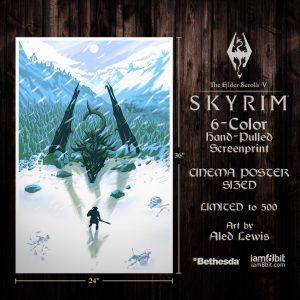 Want 'em? Pre-orders are open right now, here.