Is it a little too early for Christmas cheer? Maybe, but Entertainment Earth has some ready anyway. Here's their first gift guide of the season.
Merry Thanksgiving
Halloween is over. And now, it's time for Thanksgiving (in the US anyway). Right? Well not so fast, as the Holiday Season has managed to ooze up into November even further than it has already. Yep, we're looking at Christmas lights, decorations in stores, and gift guides.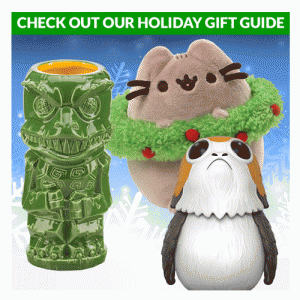 While our guide here at BG isn't slated to post till around the end of the month, our friends at Entertainment Earth have one locked and loaded right now. If you're looking to do a little early shopping for that special someone or friend till the end, or just picking some stuff up for yourself, you'll probably find something there.
EE has just about everything that a pop culture junkie could want after all. The year's list includes exclusive Transformers, nifty Star Wars collectibles, and even a Super Mario "?" block. Lots to like from pretty much every hot property out there.
So grab some eggnog and click here to check out the guide. Or just hit the image above, both links will take you to the same place. Happy shopping.