Keyed up for the release of the Legend of Zelda Encyclopedia from Dark Horse? Then you're gonna love this news.
Golden
Chances are, if you're a Zelda fan, that you're already looking forward to this incoming tome. Heck, you probably already pre-ordered yourself a copy, didn't you? Well, you might want to move that order over to what Dark Horse has just revealed, cause it's a fair bit more awesome.
How's a classic, LoZ golden game pak-styled edition of the aforementioned strike you? Yeah, it comes with a sleeve too. What a way to cap off the trilogy of books.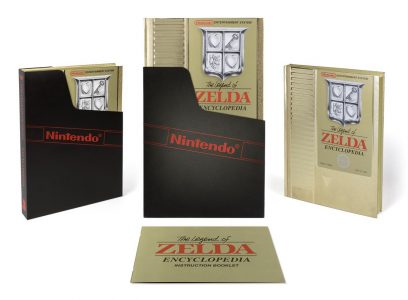 The Legend of Zelda Encyclopedia is an exhaustive 320-page guide to The Legend of Zelda™ franchise from the original The Legend of Zelda to The Legend of Zelda: Twilight Princess HD. The guide describes enemies and items, potions and poes, an expansion of the lore touched upon in the 2013 smash-hit Hyrule Historia, concept art, screencaps, maps, main characters and how they relate, languages, and much, much more, including an exclusive interview with Series Producer, Eiji Aonuma! The Legend of Zelda Encyclopedia, the last of The Goddess Collection trilogy, which includes Hyrule Historia and Art & Artifacts, is a treasure trove of explanations and information about every aspect of The Legend of Zelda universe!
This is the last in a series, as we posted a while back. The original book was Hyrule Hystoria, which was followed by Art & Artifacts. And now this Encyclopedia will round out the trio that assembles into the "Goddess Collection". Hard to say it's anything but a stunner.
Both versions of the new book will be in stores this coming April. If you want in on the deluxe edition though, it'll cost you a tad more. The book is currently priced in at $79.99 USD, and is up for pre-order.