This year's big crossover event has been unveiled for Warner Bros DCTV lineup, and it's a Crisis. A totally new and different Crisis, but a Crisis nonetheless.
Infinite Earths
Okay, so the famous line of DC crossovers with the "Crisis" take pretty much has no meaning here. Well, almost no meaning. We are talking about crossing DC comic-influenced realities in Crisis on Earth-X, but that's where ay similarities end.
Yep, that's the name of the TV version of the monster crossover, and it's actually sounding pretty awesome. Reported by Entertainment Weekly today, the event will encapsulate all four of DC's television shows, and send them on a mission against some pretty wicked foes- themselves.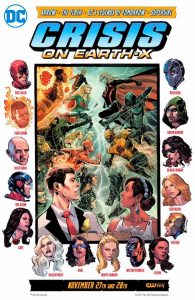 Things start off with -spoiler alert- the marriage of Barry Allen (The Flash) and Iris West. Much like several other famous comic book weddings in actual comics, this one doesn't go all that well as a group of super villains crash the party. Who are they? They're the heroes' own doubles from the never before seen Earth-X.
Earth-X, by the way, is a work where the Nazis won WWII. No, that's not exactly original, but it's still pretty cool. And dig that artwork on the "cover". Super cool stuff from comic mainstay, artist Phil Jimenez.
Crisis on Earth-X kicks off on Monday, November 27th, before concluding on Tuesday the 28th. Warners will be shuffling their shows a bit to make this special dual-night event work out, so Arrow will air on Monday of that week at 9pm, following Supergirl, meaning that the Girl of Steel will set things in motion for Crisis. All other shows will stay in their original time slots.
Read more about the crossover at the source link below.
Source: Entertainment Weekly