Dark Knights Metal is coming, and when it arrives it will bring with it seven twisted versions of Batman.
Dark Knights Metal
While readers first learned about The Murder Machine, The Red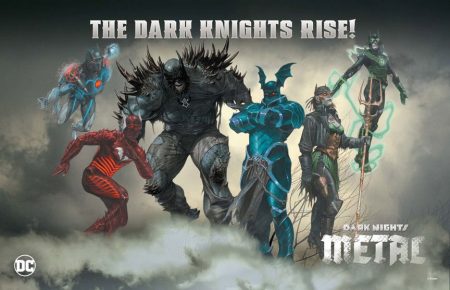 Death, The Devastator, The Merciless, The Drowned, The Batman Who Laughs and The Dawnbreaker in mid-June, Batman and the rest of the Justice League have yet to discover their existence.
But that won't last long, as DC's heroes are scheduled to do battles with the denizens of the Dark Multiverse in a series of one-shots arriving in September and November. Each of the Dark Nights: Metal tie-ins will feature "a different, corrupted version of Batman spawned from the Dark Multiverse to wreak havoc on Earth."
Priced at $3.99, each of the Batman one-shots will also ship with a foil-stamped cover by by Jason Fabok, featuring a protective UV coating. Dark Nights: Metal #1, by Snyder and Capullo, goes on sale Aug. 16.
Attendees at Comic-Con International in San Diego can get a closer look at the art over the weekend, as it is on display at the DC Comics booth as a life-size mural for con-goers to take photos with.