Another Nintendo Direct has come and gone, and the gaming company has talked up a whole mess of upcoming stuff for the Switch like Splatoon, Mario Kart 8 and more.
Switching it up
Probably first on the mind of any Nintendo fan tuning into this last Direct, the Nintendo Switch's library needed a nice update. For the most part, that's just what it got, though some of the stuff talked about was honestly a little iffy.
Nintendo ran through the Switch titles that you already knew about like Arms, Mario Kart 8, and Splatoon 2. All of the above liked great, so those are some major plusses. They also showed off a load more though, like a definitive edition of Rayman Legends, Disgaea 5, both Sonic titles, and a big surprise with Payday 2. Yes, Payday 2. Yes, that came out on consoles in 2013. No, I don't know either.
Anyway, there was a lot of good stuff is what I'm getting at. So go ahead and scroll down and have a peek at what's officially coming to the Switch in 2017, and then check out the presentation in its entirety right here.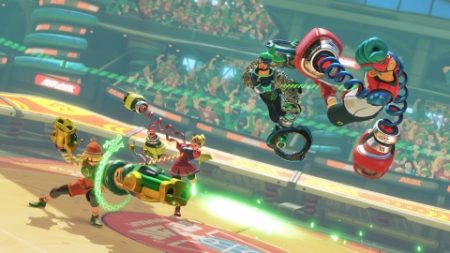 ARMS: One of the biggest features in the upcoming fighting game is the ability to equip two types of customizable ARMS per fighter. These ARMS range from standard gloved ARMS to curved weapons like boomerangs. Each ARM has a special attribute like fire, ice or electricity that activates when delivering a charge punch. As players fight through the game, they will earn in-game currency that can be used to play the ARM Getter, a fun mode in which they can get new ARMS for their fighters. The fast-paced game can be played in 1-v-1 matches or even 2-v-2* for more entertainingly chaotic battles. During the Nintendo Direct presentation, a new character was also revealed: the super-fast, ramen-armed Min Min. ARMSlaunches exclusively for Nintendo Switch on

June 16

. In addition, special Neon Yellow Joy-Con controllers and Joy-Con Straps will be released separately on the same day alongside a Joy-Con AA Battery Pack accessory.
Splatoon 2: Salmon Run, a new four-player co-op mode*, is coming to the Splatoon 2 game. By teaming up with friends, players can take a part-time job battling the new Salmonid species, which the Squid Research Lab reports might even be more lethal than the Octarians! When players fall in co-op mode, teammates can revive them by inking them on the battlefield. Splatoon 2 launches exclusively for Nintendo Switch on

July 21

. In addition, three freshly designed individual amiibo figures for the game – a new Inkling Girl, Inkling Boy and Inkling Squid – will launch on the same day and grant special limited gear in game. By tapping these amiibo (as well as previously released Splatoon series amiibo), the figure's character will appear in the game and befriend players. Befriend an amiibo character and it will remember favorite weapons, gear, outfits and option settings. This comes in handy when waging Turf War at a friend's house.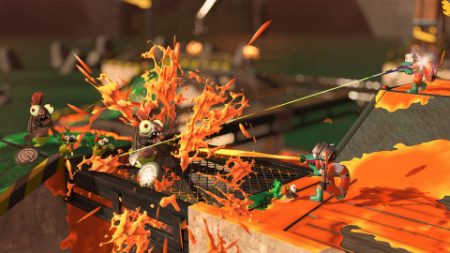 Mario Kart 8 Deluxe: When the Mario Kart 8 Deluxe game launches on

April 28

, it will do so with more characters, karts and tracks unlocked from the start than any other game in Mario Kart history. Both traditional racing and the newly redesigned battle modes can be played in Local Wireless mode with up to eight players, and in Online** or LAN mode with up to 12 players***. For fans who want to show off their driving skills, Nintendo will be hosting two Mario Kart 8 Deluxe online tournaments in game. More details about these tournaments will be revealed in the future.
Ultra Street Fighter II: The Final Challengers: Fans waiting to play this enhanced version of one of the most celebrated fighting games of all time won't have to wait much longer! The Ultra Street Fighter II: The Final Challengers game launches for Nintendo Switch on

May 26

and includes all of the classic characters and two new fighters: Evil Ryu and Violent Ken. Additionally, a "Way of the Hado" mode lets players throw HADOKENS with first-person motion controls, while an exciting two-player co-op mode* gives players and a friend one health bar for intense two player vs. CPU matches.
Minecraft: Nintendo Switch Edition: One of the most popular creation games of all time is coming to the Nintendo Switch console. The fan-favorite Super Mario Mash-Up pack along with new multiplayer play and control options will be included in Minecraft: Nintendo Switch Edition when it launches in Nintendo eShop on

May 11

and in stores at a later date.
Two Sonics, Two Styles: Nintendo Switch is getting two new Sonic games in 2017. Sonic Forces is a modern 3D take on Sonic games and follows the blue hedgehog hero as he uses his stylish high-speed moves to bring down the nefarious Eggman. Sonic and a mysterious new ally will rise up when Sonic Forces launches for Nintendo Switch this winter. Sonic Mania launches this summer and features retro 2D graphics and a host of new stages, as well as some classic stages from previous games in the Sonic the Hedgehog series.
Project Mekuru (name not final): Players that like multiplayer action games are in for a treat when Project Mekuru launches exclusively in Nintendo eShop on Nintendo Switch this summer. The frantic and fun game finds up to four players battling locally* or online** to flip panels and blow up opponents.
Disgaea 5 Complete: This tactical RPG franchise is beloved by many, and the definitive version of the fifth game, Disgaea 5 Complete, is coming to Nintendo Switch on

May 23

. Perfect for portable play, this epic RPG will launch with both standard and limited-edition versions. A free demo for the game will launch in Nintendo eShop on Nintendo Switch soon.
NEOGEO Masterpieces: Starting April 13, more NEOGEO classic games like Samurai Showdown IV will be available to purchase in Nintendo eShop on Nintendo Switch. Some future NEOGEO games coming to the system include Fatal Fury and The King of Fighters '99.
Puyo Puyo Tetris: Two classic puzzle games face off in Puyo Puyo Tetris. The four-player* puzzle mashup game is only a little more than a week away, launching on Nintendo Switch on

April 25

. For people who want to try before they buy, a free demo for the game is now available.
Monopoly for Nintendo Switch: One of the most famous board games ever is coming to Nintendo Switch. Up to six players can experience the classic game with HD Rumble features and optional shorter sessions when Monopoly for Nintendo Switch launches this fall.
Rayman Legends: Definitive Edition: The gorgeous, award-winning platformer is coming to Nintendo Switch later this year. On Nintendo Switch, an exclusive Kung Foot experience offers a Solo Mode and tournaments for up to eight players*.
THQ Nordic Games: The diesel-punk shoot-'em-up game Sine Mora EX, co-developed by acclaimed studio Grasshopper Manufacture, launches on Nintendo Switch this summer with local co-op and versus* modes. Also coming to Nintendo Switch from THQ Nordic Games is Battle Chasers: Nightwar, an RPG inspired by console classics and based on the Battle Chasers comic book series. Battle Chasers: Nightwarlaunches with timed exclusivity on Nintendo Switch in late summer.
PAYDAY 2: In this four-player co-op game*, players band together to rise to the top of the criminal world for bigger jobs and better paydays. PAYDAY 2 launches for Nintendo Switch this winter.
NAMCO MUSEUM: Some of the most popular games of all time are coming to Nintendo Switch as part of the NAMCO MUSEUM package. Classic games, including PAC-MAN, GALAGA and SPLATTERHOUSE, as well as multiplayer gems like ROLLING THUNDER, SKYKID and TANK FORCE, can now be played at home or on the go. Players can stop and resume gameplay at any time, and Special Challenge Modes offer ways to test players' skills. NAMCO MUSEUM launches for Nintendo Switch this summer.
Fate/EXTELLA: The Umbral Star: Featuring playable characters from multiple Fate productions across three distinct narrative perspectives, Fate/EXTELLA: The Umbral Star delivers the series' most legendary showdown yet. The Nintendo Switch version will come loaded with 35 previously released paid DLC costumes, along with an exclusive new Unshackled Bride outfit. The high-octane action game will launch for Nintendo Switch in North America on

July 25

.
Nintendo Switch Standalone Dock: The Nintendo Switch standalone dock accessory will be available for purchase starting on

May 19

. Additional docks are perfect for traveling without having to unplug the main Nintendo Switch setup, as well as switching between TVs in the same house without transporting cords.