Everyone remembers where they were when he came to earth. It was 8:08, on the eighth of August, 1988. His dastardly voice blaring over the loudspeakers with that stupid laugh, "MUA HA HA HA HA." His demands were simple: The earth must pay 88 octillion dollars in 88 hours or 88 thermo-nuclear warheads would be launched around the globe. It only seems fitting that a doctor with a Ph.D. in hate, Dr. H8, would want to destroy the world. The end is nigh.
Things Get Weird In 88 Heroes
In this 2D platformer was developed by Bitmap Bureau and published by Rising Star Games. It stars 88 different characters, some heroes, some zeroes, and their mission is simple: infiltrate his base and take down Dr. H8. Players will duck, dive, dodge, run, fly, transport, roll, and snake their way through the levels. Dr. H8 has unleashed his diabolical army and they will do whatever it takes to stop these heroes. Who are these heroes? Let us meet some of the 88 characters that will be available for players.
Introducing: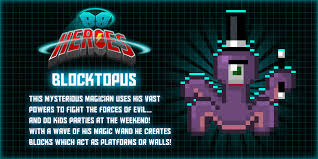 Doctor Blocktopus – never has there been such a debonair octopus. Equipped with his trusty top hat and wand, the doctor can create new blocks for either climbing higher or stopping projectiles. Don't worry about dying, because the doctor is in.
The Mime – On a quest for revenge, The Mime will do whatever it takes to rescue his kidnapped wife.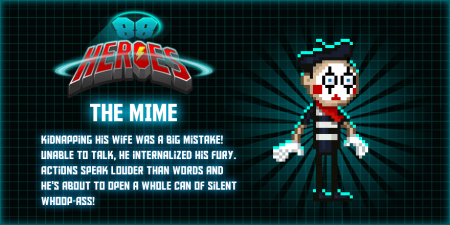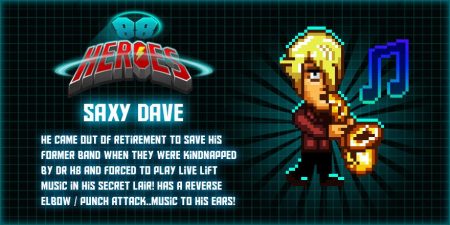 Saxy Dave – Saxy Dave's old band mates have been kidnapped. It is up to Saxy Dave to rescue his band from playing a live gig at Dr. H8's base.
Cath Letics – She holds 88 records in 88 different events. She could possibly be the best athlete to ever be an athlete. Will her athletic skills help to save the day? Find out in 88 Heroes.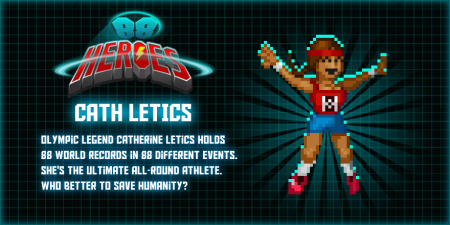 88 Heroes is set for release later this month. It will release on PC, Playstation 4 and Xbox One. Keep an eye on BrutalGamer.com for all your video game news. Check back later this month for a full review of 88 Heroes.