Flash recruites some of his strongest colleagues to aid in an alien invasion. Will they be enough? Find out in The Flash Invasion.

Wishful Wally
Wally continues to work in the cortex, testing how fast he can go. Iris convinces the rest of the team that they do not want to encourage Wally in his abilities. He will want to rush and join Flash before he's ready. An alarm goes off alerting everyone to a meteor. Only upon arriving at the crash site, Barry learns that it is no meteor. An alien ship has landed in Central City. Dozens of aliens emerge and run to all corners of the city.
"Understanding is our purpose"
These aliens have come before, and broadcast a message of 'come in peace.' Though who ever truly believes that line. Barry knows something is monumentally wrong, and runs to Starling City. He finds out where Oliver Queen and John Diggle are, and shows up just in time to pull them from the path of some bullets headed their way. Arrow's colleague Felicity leaves a message for the Legends of Tomorrow. The team will need as much help as they can get. Meanwhile, Cisco and Barry have vibed to Earth 38 to recruit Supergirl to their aid.
Wally wants to join the cause, but Iris isn't having it. Jax and Professor Stein share with Barry the future Flash's message of warning. Professor Stein runs home, not sure what he will find. He now has an adult daughter as well as his wife. Across town, the Dominators (aliens) have kidnapped the President of the United States.
Tainted Targets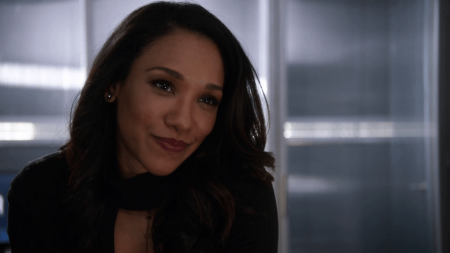 The team tracks down the kidnapped President, only to learn that the man was bait. A Dominator steps from the shadows, evaporates the President, and hits everyone present with a mind control attack. Oliver confronts Barry about his guilt of Flashpoint, only to be met in a 5-on-1 attack with their friends standing against them.
Wally seemingly understands better than one what assistance his friends need. He runs through the group, able to help Flash and Arrow out of harm's way. No sooner does Wally get them from the path of danger, does Supergirl send him flying for his trouble.
Cisco and Felicity pinpoint the source of the mind-control signal, so Barry decides to lead Supergirl to it, using her invulnerability to their advantage. Playing on her ego, asking Supergirl who is faster. During their fight, Flash is able to use Supergirl as a weapon against the Dominators. Shutting down this device causes the team to regain their mental faculties, before anyone else is seriously injured in this scuffle.
Aftermath
No sooner do our heroes regain their sense of self, and congratulating one another on the defeat of the Dominators, do the team begin to disappear in mysterious beams of light. As soon as Barry understands what is going on, he is a moment too late, as Arrow is the last to disappear. Leaving Flash alone in the middle of the street. Inside STAR lab, Joe and Iris are glad that Wally West is only bruised by his debut. As he leaves the lab, HR tells Wally that he will indeed train him, as the both of them are overlooked by the remainder of their team.
This was part two of a four-part invasion story, and quite a story it is, to be sure. Traveling time and space to bring several elements together, in order to address alien invaders. Who can't get excited by that? Careful, if you are not careful, you may find yourself picking up a new series to watch, if you are not already a fan of Arrow, Supergirl or Legends of Tomorrow. It is certainly worth checking out the other episodes for the entireity of the story arc. Catch Supergirl for part one, Arrow for part 3 and Legends of Tomorrow for the conclusion.
Catch The Flash on the CW network Tuesday nights at 8pm est/ 7pm cst.