Image Comics' Spawn, Sex Criminals, Monsters and tons more will be in the convention center for SDCC.
There should be something for almost any Image fan in store for those heading to Comic Con next week. As you might expect, con-exclusive variant editions, and signings are on tap for the Image booth. Looking for panels? There'll be plenty as well, but in private rooms.
Turning up big showings though, will be some of the company's most popular labels. Sex Criminals, Monstress, Tokyo Ghost, Snotgirl, and the reinvigorated Spawn will all be present. And they'll be in full effect too, factoring into signings, panels, and exclusives for you to buy.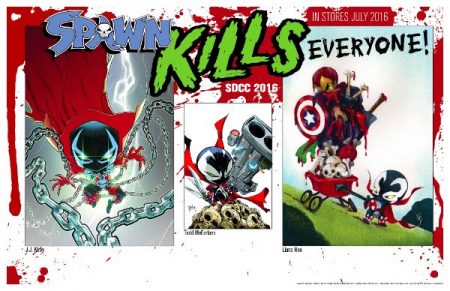 Here's your full listing, Image is at booth #2729
LIMITED* SDCC VARIANTS SOLD AT THE IMAGE BOOTH (#2729):

MONSTRESS, VOL. 1hardcover by Marjorie Liu & Sana Takeda, $40
SNOTGIRL #1 by Bryan Lee O'Malley & Leslie Hung, $10
THROWAWAYS #1 by Caitlin Kittredge & Steven Sanders, cover art by Roberta Ingranata, $10
PAPER GIRLS Book Plate with art by Cliff Chiang (free with purchase of PAPER GIRLS, VOL. 1 at the booth)

* Quantities will be limited by customer and per day on a first come, first served basis. Please ask at the Image booth about availability.

CONVENTION EXCLUSIVES:

TOKYO GHOST, VOL. 1 Convention hardcover by Rick Remender & Sean Gordon Murphy, $35
SEX CRIMINALS, VOL. 3 Covention hardcover by Matt Fraction & Chip Zdarsky, $35

PANELS HOSTED BY IMAGE COMICS:

THURSDAY
Comics in #YourIMAGE: Creating the Zeitgeist, Thursday, 7/21/16, 2:00p.m. – 3:00p.m., Room: 23ABC

Comics are more popular than ever, and it's all thanks to creators who are bringing their passions, interests, and original ideas to the medium. Chynna Clugston Flores (BLUE MONDAY), Kieron Gillen (THE WICKED + THE DIVINE), Marjorie Liu (MONSTRESS), and a few more special guests are making comics cooler, story by story.

FRIDAY
Comics in #YourIMAGE: Defining New Worlds, Friday, 7/22/16, 11:00a.m. – 12:00p.m., Room: 23ABC

Comics are capable of anything, if you give them a chance. Joe Harris & Kelly Fitzpatrick are creating near-future sci-fi in SNOWFALL, Chris Burnham showed us a vision of hellish horror in NAMELESS, and Steven Seagle & Jason Katzenstein brought us an all-ages monster-themed coming-of-age tale in CAMP MIDNIGHT. They create new worlds that readers fall into and love forever, and they share their expertise here.

SATURDAY
Comics in #YourIMAGE: Riffing on Reality, Saturday, 7/23/16, 1:00 – 2:00p.m., Room: 7AB  

Works don't have to be completely realistic to feel real—sometimes just dipping a toe in reality and then taking off in another direction will do the job. Joshua Williamsonco-creates NAILBITER, Caitlin Kittredge writes THROWAWAYS, and Matt Fractionscripts ODY-C & SEX CRIMINALS. These creators and our special guests take something we know well and then throw a monkey wrench into the works, creating something familiar, but innovative, at the same time.

SUNDAY                        
Comics in #YourIMAGE: Tomorrow's Comics Today, Sunday, 7/24/16, 2:00 – 3:00p.m., Room: 7AB    

What do mainstream comics look like? What appeals to "the average reader"? Bryan Lee O'Malley & Leslie Hung (SNOTGIRL), Jamie McKelvie (THE WICKED + THE DIVINE), Brandon Thomas (HORIZON), and Jim Zub (WAYWARD) are making books that appeal to anyone and everyone, and redefining the idea of mainstream comics in the process.

SIGNINGS* HOSTED AT IMAGE COMICS BOOTH (#2729):
*wristbands will be available for fans to pick as soon as doors open, first come, first served, at the Image booth on the day of the desired ticketed signing.

WEDNESDAY, JULY 20
Charlie Adlard, 6 – 6:45 p.m.

THURSDAY, JULY 21
Joshua Williamson & Adam Guzowski, 10 – 10:45 a.m.
Sina Grace, 11 – 11:45 a.m.
Kyle Higgins, 12 – 12:45 p.m.
Brandon Thomas + Juan Gedeon, 12 – 12:45 p.m.
Keenan Marsall Keller & Tom Neely, Brian Schirmer & Jeremy Saliba, 1 – 1:45 p.m.
Jason Aaron & Jason Latour, 1 – 1:45 p.m.(ticketed, 3-item limit)
Terry Dodson, 2 – 2:45 p.m.
Bryan Lee O'Malley & Leslie Hung, 3 – 3:45 p.m. (ticketed, 3-item limit)
Charlie Adlard, 3 – 3:45 p.m.
Brenden Fletcher & Babs Tarr, 4 – 4:45 p.m.(ticketed, 3-item limit)
Brian Haberlin, 4 – 4:45 p.m.
Meredith McClaren, 5 – 5:45 p.m.
Otis Frampton, 5 – 5:45 p.m.

FRIDAY, JULY 22
Jim Zub, 10 – 10:45 a.m.
Joe Harris, 10 – 10:45 a.m.
Cliff Chiang & Jared Fletcher, 11 – 11:45 a.m.
Nicola Scott, 11 – 11:45 a.m.
Caitlin Kittredge, 12 – 12:45 p.m.
Charlie Adlard, 12 – 12:45 p.m.
Rick Remender, 1 – 1:45 p.m.(ticketed, 3-item limit)
Joshua Williamson, 1 – 1:45 p.m.
Man of Action Group: Steven T. Seagle, Joe Casey, Joe Kelly, and Duncan Rouleau, 1 – 1:45 p.m.
Steven T. Seagle & Jason Katzenstein, 1:45 – 2:30 p.m.
Marjorie Liu & Sana Takeda, 2 – 2:45 p.m.(ticketed, 3-item limit)
Bryan Lee O'Malley & Leslie Hung, 3 – 3:45 p.m.(ticketed, 3-item limit)
Spawn Kills Everyone: J.J. Kirby, Liana Hee, 3 – 3:45 p.m.(will be signing 100 limited edition SPAWN KILLS EVERYONE posters featuring the art of all three SKE covers)
Kieron Gillen & Jamie McKelvie, 4 – 4:45 p.m.(ticketed, 3-item limit)
Ed Brubaker, 4 – 4:45 p.m.(ticketed, 3-item limit)
Andy Belanger & Becky Cloonan, 5 – 5:45 p.m.
Emi Lenox, 5 – 5:45 p.m.
Max Landis, 5 – 5:45 p.m.(ticketed, 3-item limit)
Robert Kirkman, 6 – 7 p.m.(ticketed)

SATURDAY, JULY 23
Scott Snyder & Jock, 10 – 10:45 p.m. (ticketed, 3-item limit)
Caitlin Kittredge, 10 – 10:45 a.m.
Ed Brubaker, 11 – 11:45 a.m.(ticketed, 3-item limit)
Kieron Gillen & Jamie McKelvie, 11 – 11:45 a.m.(ticketed, 3-item limit)
Chris Dingess, 11 – 11:45 a.m.
Tula Lotay, 12 – 12:45 p.m.
Dustin Nguyen, 12 – 12:45 p.m.
Man of Action Group: Steven T. Seagle, Joe Casey, Joe Kelly, and Duncan Rouleau, 1 – 1:45 p.m.
Jason Latour & Jason Aaron, 1 – 1:45 p.m.(ticketed, 3-item limit)
Brian Buccellato, 2 – 2:45 p.m.
Marjorie Liu & Sana Takeda, 2 – 2:45 p.m.(ticketed, 3-item limit)
Brandon Thomas & Juan Gedeon, 2 – 2:45 p.m.
Bryan Lee O'Malley & Leslie Hung, 3 – 3:45 p.m.(ticketed, 3-item limit)
Matt Fraction, 3 – 3:45 p.m.(ticketed, 3-item limit)
Nick Spencer, 4 – 4:45 p.m.(ticketed, 3-item limit)
Rick Remender, 4 – 4:45 p.m. (ticketed, 3-item limit)
Shawn Martinbrough, 4 – 4:45 p.m.
Emi Lenox, 5 – 5:45 p.m.
Kyle Starks, 5 – 5:45 p.m.

SUNDAY, JULY 24
Howard Chaykin, 10 – 10:45 p.m.
Brenden Fletcher, 11 – 11:45 a.m.(ticketed, 3-item limit)
Cliff Chiang & Jared Fletcher, 12 – 12:45 p.m.
Ivan Brandon, 2 – 2:45 p.m.
Bryan Lee O'Malley & Leslie Hung, 3 – 3:45 p.m.(ticketed, 3-item limit)

IMAGE CREATORS IN ARTIST ALLEY:

Brian Buccellato, BB-20
Chris Burnham, CC-15
Shane Davis & Michelle Delecki, EE-17 & 18
Mark Dos Santos, FF-10
Otis Frampton, GG-3
Joe Harris, EE-20
Edwin Huang, EE-19
Dustin Nguyen, CC-1
Eric Shanower, BB-1