Hello everyone, welcome to the maiden review of my Brutal Gamer career. This week had me playing The Collider 2, a new game coming to us from Shortbreak Studios.
Before we start with the nitty gritty technical stuff, I would like to say that I had fun with this game. It was an interesting and rather addictive experience. One too, that I had to work very hard to come up with quirks about.
Story, or lack thereof
I started The Collider 2 with some apprehension. It's a space game by an indie company after all. Honestly, those are usually as stimulating as watching paint dry in a rain forest. But after about 10 minutes I was hooked.
The story is completely untold, which is obviously pretty strange as storytelling goes. At best guess from the start screen though; you are in charge of a space program attempting to save Earth. Of course, it's an alien spaceship that's attacking the planet, and you'll need to employ tactics from A New Hope to get rid of them.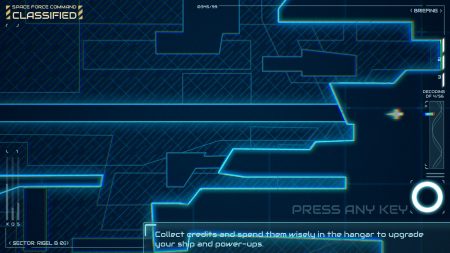 Easy to learn, hard to master gameplay
The Collider 2 has a deceptively simple presentation. It requires true skill for one to advance, which is what makes it excellent. At first I planned on comparing it to arcade games, with the easy-to-learn-hard-to-master style of gameplay it had. In the end though, I would say that it mostly resembled a PC port of an iPhone game.
I researched Shortbreak Studios (i.e. looked on their website) and found out that they indeed make mobile games. So the comparison kind of makes sense. The Collider 2 has that same style of gameplay as Vector. You run through different missions in a world until you have scored enough to access the next.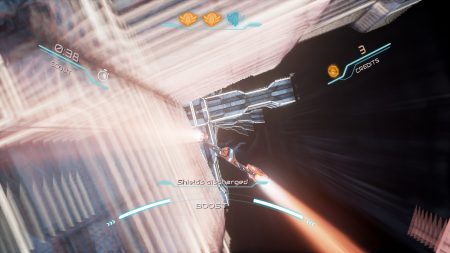 Of sectors and missions
The Collider 2 has 6 worlds, named sectors, for you to run through. I have to say that each one feels unique. While I will go into most of the visual aspects later, this level design change does feel like an entirely new part of the ship with slightly beefed up security, complete with new obstacles to avoid.
Each sector is split into 9 missions, and three different mission types. Scout missions which entail a time trial course of the sector, missions which entail collection of alien artifacts, and missions in which you must destroy floating red cubes are all included.
Scout missions make up the majority of the challenges, but each type is fun and addictive. However, the previous iPhone comparison was not made in vain, as each missions grades you based on your time score, how many artefacts you've collected, and how many cubes you have destroyed. Once certain criteria are met, these missions will award you badges, which must be used to unlock the later levels.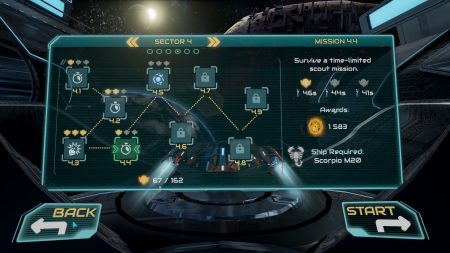 In my previously mentioned research, I decided to go to the Steam page. There I found fairly negative reviews on the Virtual Reality control scheme. However, this isn't a problem for anyone with a good old fashioned keyboard and mouse.
While I can't speak to VR, the movement with a tried and true setup is very smooth.  The ship is responsive to every move you make and a single mistake is more likely to be the player's fault rather than the game's.
This leads to my final point on the gameplay, this game is addictively fun. The simple controls and fair difficulty curve create a perfect mixture of challenge and skill in the first half. However, the difficulty does ramp up hectically in sector 3.
It never becomes a deal breaker, as the difficulty conditions one after a while of playing, but this does mean the game might become frustrating for some. This frustration is exactly where the addictive quality comes from though, because it is the kind of frustration where you simply grit your teeth and try again.
Audio & Visual
Visually, this game is absolutely beautiful. It is almost always disappointing when games attempt to show us the inside of an alien space ship, either gun metal grey or lit up like Christmas time in Star Trek. When I began The Collider 2, I thought it was the former, and prepared myself for the ensuing boredom.
However; while the first sector wasn't exactly a marvel of space engineering, every sector after that was a brilliant display of creativity. It visually appeared as though we were entering deeper and more secure parts of the ship, and everything contributed to this from the level design to the lighting becoming darker for a great deal of the maps. This immersed me in the experience and blew me away at the same time, I kept playing to see what the next level looked like near the end.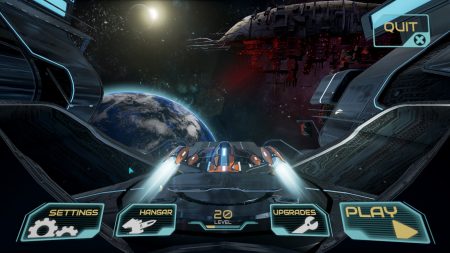 While the visuals were great, audio-wise I was kind of dissapointed. There are no problems per se, but the audio is also nothing special. I would say at this point that it would have been better to try something crazy rather than sticking with the safe option. Audio is integral in gaming, and while the idle pew pew pew of our lazers is uninspired, I will say that it doesn't ruin the experience.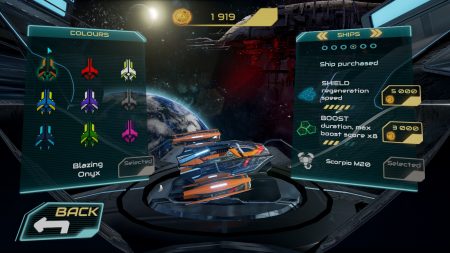 All together, a fun cosmic ride
For those that saw this coming, well done on reading the first paragraph. I heartily recommend The Collider 2! It is fun, addictive and almost all of its issues are balanced out with features in the game.
Need money for the newest space ship? No problem, here is a survival mode for you to earn money with. Need to get more medals? Go and replay some previous levels, then be amazed at how much better you are.
The space ship restriction makes all the levels retain their interest, and the upgrades are absolutely worth it. I found my only criticism being that there are not enough sectors, but the difficulty sorts that problem out. So as a final suggestion to the creators, if you plan to update the game in the future, please release more sectors.
So there we have it, this game is currently on Steam and I recommend playing it with the mouse and keyboard as God intended. This has been Callum for Brutal Gamer, so long space cowboy!
Recommended
Gameplay & Story - 82%
Audio & Visual - 85%
An addictive space experience that left me wanting more. An absolute must for anyone with a steam account