One of the most iconic locales in the Star Wars universe is now available for you to shoot up. Star Wars Battlefront's Cloud City expansion is now available.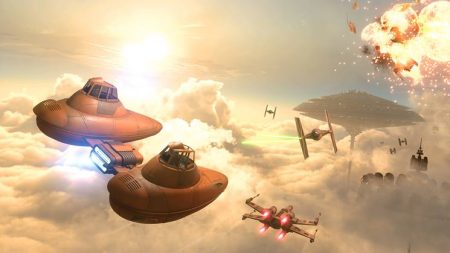 If you have the Season Pass for Star Wars Battlefront, you should probably fire up your copy once again. Two brand new characters to play as have entered the game with this update, and a total of four new maps as well. On top of that, you can also count on some new hardware to play with, which is always nice.
The maps include the Administrator's Palace, Carbonite Freezing Chamber, and a cybernetics lab, which is all pretty neat. As far as the new weaponry goes, you can now play with the X-8 sniper-pistol, and the EE4 (which is a shotgun-kind-of-thing). Almost as great as the maps though, are the added characters, as we're talking about Dengar and Lando himself.
Dengar is a bounty hunter. If you're unfamiliar, he was in the famous scene on the bridge of Vader's Star Destroyer in Empire Strikes Back. He's played a much bigger role in the retconned out expanded universe though. There he was good buddies with Boba Fett and actually had, you know, a personality.
Unlike Dengar though, there isn't too much that needs to be said about Lando. Almost on par with Han Solo in terms of roguish behavior, Lando is in charge of Cloud City, and no friend to the empire, despite first glance. Both characters are great additions to the roster of playable heroes.
There's much more in this download as well, with a new grenade, new binoculars, and the famous two-pilot Cloud Cars all included. You can catch the Cloud City pack right now, included with the Season Pass for Battlefront.