Yes, Crash Bandicoot is back in a pretty big way. He'll be getting a trio of HD remasters, and will be joining his platforming pal Spyro in Skylands.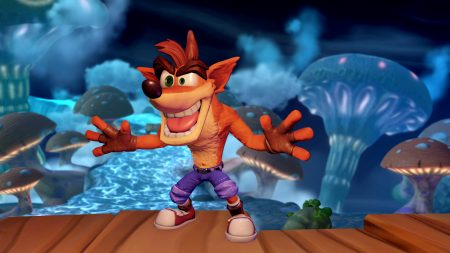 "For years, we've been asked when is Crash returning, and today that question has been answered. Activision is proud to celebrate the iconic character's 20-year anniversary by bringing him back in ways that will appeal to hardcore fans as well as introduce him to a new generation of gamers," said Eric Hirshberg, CEO of Activision Publishing, Inc. "We can't wait for gamers to see Crash bring his unique style and quirky personality to the epic battle against Kaos in Skylanders Imaginators. And next year, we'll expand on the Crash experience for players with remastered versions of three classic games."
Not only will Crash be joining the Skylanders for Imaginators, but he'll be a pretty big part of the game, and so will his old pal Aku Aku. Apparently, there's a once in a long time convergence of the Skylanders' realm and the Wumpa Islands (that's where Crash and crew live), and it's resulted in a portal forming that links the two realms.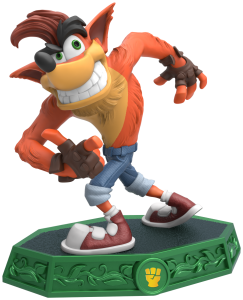 While this means that the Skylanders can visit Crash's pad and vice-versa, it also means that the villainous Kaos can lay siege to both. This time he's got an army too, called the Doomlanders (what else?), and they're hatching an appropriately evil plan (queue laughter).
So it's a good thing that Crash will be there to stop him. And he'll be doing it in style with the full Skylanders treatment. A figure for the beloved character will be on the shelves, and he'll be a fully playable Sensei character in the game, which means that he can tutor your created characters (which is the hook this time around). And while Crash's tutorial skills might be questionable (at best), it's darn good to see him tossing around TNT crates and spin-attacking baddies again. He's even going to sound the same as you remember, thanks to actor Jess Harnell reprising his role.
You'll be able to pick up Crash Bandicoot and Skylanders Imaginators for consoles this coming October the 16th. For now though, you can check Crash's moves out in this B-roll footage, as he smacks Kaos' forces around:
While this is pretty awesome news for fans of the radical marsupial, it's far from the only Bandi-news to debut at E3 2016. Crash will also be getting a trio of HD remasters in 2017. Yes, they're still a year off unfortunately, but Crash Bandicoot, Cortex Strikes Back, and Warped (read: the best three Crash games) are all coming back.
Exclusive to the PlayStation 4, the games will all be fully remastered, though there's no details as to how they'll be sold as of yet, or what extras you might be getting with them. But honestly, who cares? Activision could just overhaul the graphics and I'd be in for all of 'em. It's literally almost been decades since there was a great Crash, so to get these three classics re-presented -even in a somewhat vanilla state- is just fine with me.