One of the biggest independent publishers in comics, Dark Horse has declared June 4th to be a day of celebration for the brand.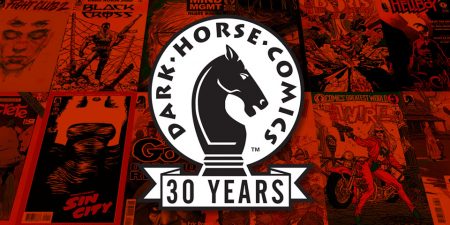 Unless you've been living under a rock, you know that this year marks the 30th anniversary for Dark Horse Comics. From their humble beginnings to a legitimate force in the industry, Dark Horse has forged its way through the world of comics in impressive fashion.
I pretty certain too, that that's no overstatement. After all, how else would you describe a brand that came out of nowhere and turned Aliens, Predator, Terminator, and at least a dozen other existing and original IP's (yes, including Star Wars) into comic book juggernauts?
"Just over thirty years ago, I gathered a group of would-be collaborators in the restaurant I owned and told them I was going to start a comics company. I'm not sure whether their smiles were a result of excitement over the possibilities or amusement at the thought of it, but here we are all these years later making comic books," remarked Dark Horse president and publisher Mike Richardson. "It's been an amazing journey and we've witnessed extraordinary changes both in the comics market and in our pop culture over three decades. We're excited to still be spending our lives in the career we love, and we hope that you all will help us celebrate thirty years of comics."
All this year, the Horse will be doing something special and offering throwback covers on some of their biggest books. While you might be well aware of that initiative though, you might not know that they'll also be having a special day of celebration – think of it as a birthday party, only you get to take home something cool.
An exclusive Dark Horse Sampler book will be making its way into stores for June the 4th, the official Dark Horse Day. The mini-tome will pack in a bunch of content too, including classic stories from the publisher's massive catalog and a brand new Buffy tale.
Here's what's set to appear between the covers:
Aliens vs. Predator: Blood Time (1994) by Randy Stradley and Phill Norwood
Sin City: Daddy's Little Girl (1996) by Frank Miller
The Umbrella Academy: Anywhere but Here (2008) by Gerard Way and Gabriel Bá
An all-new Buffy the Vampire Slayer tale by Christos Gage
"It's hard to believe it has been thirty years—mainly because the memories of seeing our first comics on the stands and going to conventions and meeting fans for the first time are still so clear. If you're a Dark Horse fan, or if you've ever been a Dark Horse fan, I hope you join us for this milestone celebration!" added Dark Horse vice president of publishing Randy Stradley.
Dark Horse also notes that it might be a good idea to talk to your local comics shop's staff about Dark Horse Day, and to remind them that you'd like to buy a copy of the special book. While it's an awesome little item/celebration, not every store is going to participate and order up without a little customer interest.