Chances are that, if you're a Mortal Kombat fan, you know Mezco Toyz' current (and pretty freaking awesome) toy line based on MKX. While that line is 6″ in scale, things are about to get somewhat… smaller.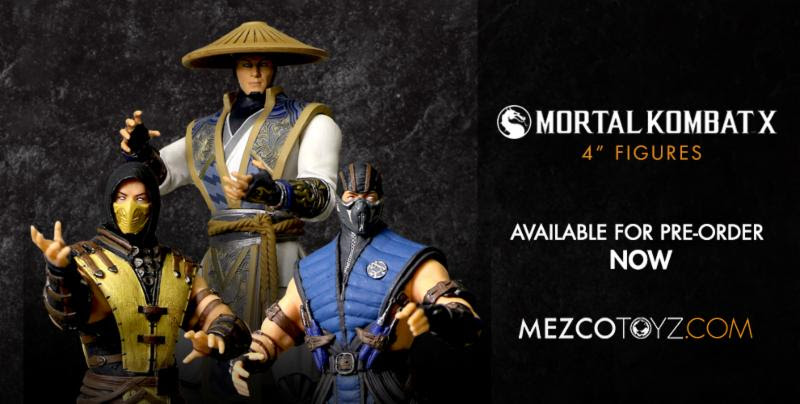 Perfect for your desktop or for the collector who doesn't have a ton and a half of room for bigger figures, the new 4″ series of MKX figures from Mezco are every bit as cool as their larger cousins. Each figure features 23 (!) points of articulation and comes complete with a stand (with the MKX logo on it), as well as some awesome accessories, most of which mirror the bigger line.
Round one will match that original wave though with Scorpion, Raiden, and Sub-Zero leading the way. Here's what's in store:
Scorpion, the hell-spawned specter. Ninjas need weapons and Scorpion has them. He comes complete with his spear tipped wrist chains, as well as 2 game accurate swords. He also has an additional pair of fighting hands.
Raiden, the eternal God of Thunder. Even a God of Thunder needs weapons so he comes complete with game accurate alternate hands, alternate lightning hands, and a lightning ball.
Sub-Zero, the icy assassin.  Of course, Sub-Zero needs the weapons he is famous for, so he comes complete with his game accurate hammer and sword.
I want that hammer. Anyway, the new smaller MKX figures should be heading to retail some time this Summer, somewhere around July or August, and you can pre-order them right here. We'll have more around Toy Fair time.