No limited or mini-series' here folks, Aliens is officially getting an ongoing book from publisher Dark Horse Comics.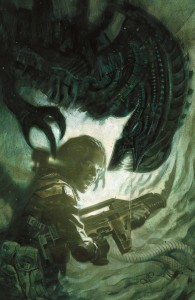 One of the greatest horror and sci-fi series' of all time, Aliens has a rich history at Dark Horse Comics already, and there's tons more on the way. Announced at NYCC 2015, there will at long last finally be an ongoing Aliens series that'll be heading to comic book stores on a monthly basis. The book will officially be dubbed Aliens: Defiance, and will start with an all-star creative team including Brian Wood and Tristan Jones.
"Alien was groundbreaking when it first debuted, and has only grown in relevance and pop culture legend since," remarked Wood. "Thirty-seven years is an impressive amount of time for any entertainment property to thrive, much less still top mainstream headlines and fuel speculation like it does. It's an honor to be invited to add to that legend."

In space, no one can hear you scream . . . Aliens: Defiance follows struggling Colonial Marine rookie Zula Hendricks as she goes AWOL to protect Earth from an unknown alien species.

"Few films are as timelessly terrifying and the fact that it continues to grip audiences and affect them beyond any of its successors and imitators (of which there are plenty) is the strongest testament to how truly transcendent everything that went into, and came out of, Alien is," added Jones. "Being asked to be a part of something so defining, and so instrumental to the creative development of not just me, but so many, many others, is a lifelong dream come true."
Aliens, colonial marines, and a kick ass writer and artist… Defiance should be a treat for fans when it hits stands on April 27th, 2016.