As usual, NECA debuted a bunch of awesome action figures at this past Comic Con, all of which you're probably going to want to add to your collection.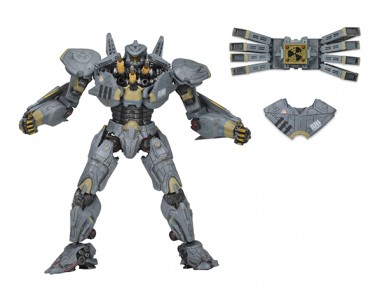 In terms of making 'toys', NECA is right up at the top of the heap. Their stuff is consistently awesome, loaded with detail and, these days, articulation as well. They actually count, and have counted, some of the biggest licenses out there among their stable too, with Alien, Predator, Pacific Rim, and Terminator marking some of the biggest reveals in San Diego last week.
While there was plenty other than what's shown below, these shots were just released by the company, and give a particularly nice look at some of the more anticipated pieces.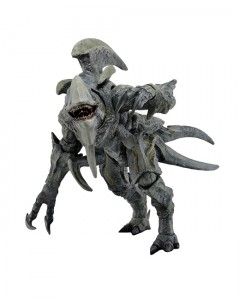 I'm not all that big a Pacific Rim fan, but I don't know if your fandom has to really go any further than big monsters and robots to appreciate these two. Both the Mutavore and Ultimate edition of Eureka Striker are very impressive figures that'll be offered in the 7″ scale. Striker in particular is nifty with those missile effects.
Also revealed was the first series of Alien: Isolation figures. Patterned after the designs from the recently released horror game of the same name, the collection is the latest addition to the company's phenomenally cool Alien line, which includes figures from Alien, as well as the sequel Aliens, and Alien 3.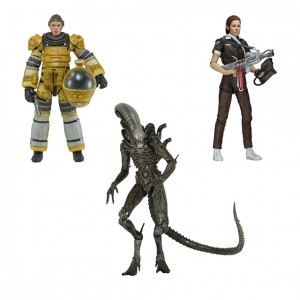 Series one includes Amanda Ripley in a spacesuit (which includes a removable helmet and a handgun), Amanda out of her suit (with a flamethrower, backpack, and motion sector), and that lovable Alien. The xenomorph is exceedingly cool too, standing at 10″ as compared to Amanda's 7″, and has a bendable tail.
Then there's the big guy. The latest in NECA's 1/4 scale figure line, the original Jungle Hunter Predator is ready to join that 1/4 scale Arnold Schwarzenegger NECA released not all that long ago. Sporting some really cool effects though, I think this one's got Arnie beat.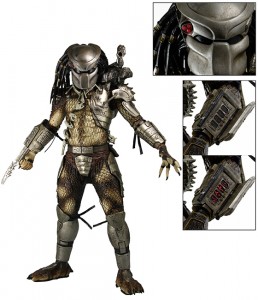 The Jungle Hunter Pred that you see above is a re-release of sorts, using the mold form NECA's first figure of the original Predator, a figure that's been out of circulation for a good long time. This one though, improves on the original with built-in LED lighting. He's actually going to be somewhat limited in availability too, with only one production run scheduled.
And finally, there's the Ultimate Sarah Connor from Terminator 2: Judgement Day. One of the greatest characters in action movie history, from one of the greatest action movies of all time gets an Ultimate figure from NECA with a spot-on likeness of actress Linda Hamilton.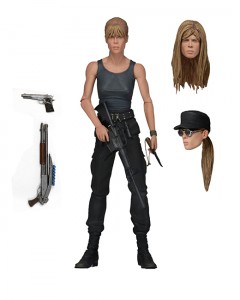 Sarah includes three heads, to give three different looks from the film, a removable tactical vest, a rifle, a shotgun, a pistol, and a knife (because there is no fate but what we make). She's also got 25 points of articulation, so getting that perfect pose for your shelf-top diorama should be a snap.
All in all, another excellent showing for NECA, who's stuff I'm a huge fan of (if you couldn't tell). All of the above should be available for pre-order now, or soonish on your favorite internet retailer, and all of it is on the docket for a 2015 launch. If you don't want to order online, you can also usually find most of their stuff at Toys R Us' around the country as well, though I don't think TRU offers pre-orders through their stores.
If you'd like to check out some more shots of the above, and get the full lowdown on pricing and availability for all the figures mentioned here, check out NECA's official site.