The Microsoft press conference blew all expectations out of the water, with a massive lineup of the expected triple A giants, some fresh new IP's hot out of the oven, and a slew of fantastic indie games.
The conference started out with a Halo 5: Guardians demo. Guardians marks the return of Buck (played by Nathan Fillion), and that alone makes me ten times more excited for the game. Guardians will also be featuring many more new Promethean enemies, as well as some new vehicles and guns to play with, it seems.
By far, I think, the high point of the Halo 5 section of the conference was the new Warzone mode for multiplayer. Warzone will be combining a Firefight style with the classic multiplayer deathmatch mode. It will feature two (possibly more, though it hasn't been mentioned at this point) teams duking it out to the death while under heavy fire from Covenant and Promethean forces. This new game mode seems like it will add another layer to Halo's already amazing multiplayer experience, but we won't have to wait too much longer to find out, only to October 27th this year.
A short trailer for what looks to be a sweet game created by the makers of the original Metroid Prime games was shown. This game goes by the name Recore, but not much is known about it at this moment.
Following Recore, one of the most mind-blowing and highly requested features for the Xbox One was announced. Backwards compatability. That's right, starting around the holiday season, a major update will come to Xbox which will enable you to play your old, and perhaps abandoned 360 games right on your Xbox One. The more classic 360 games will come to the store by Christmas this year.
From there, they went on to show the new controller, the Xbox Elite. A wireless controller with hair trigger locks, interchangeable joysticks, and an improved fighting game pad. Built from the ground up for Windows 10 and Xbox One, it promises 'professional level precision', which, for competitive gamers, is a godsend. The Elite will be available sometime this fall.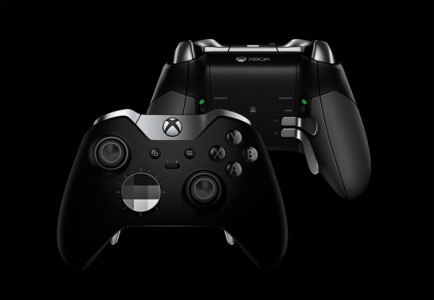 Much to my excitement, Todd Howard took once more to the stage to show some more Fallout gameplay. Today, the demo started out similar to last night's showcase, but changed to show a bit more of the combat system. This demo also featured coming across the first friendly survivors, as well as discovering the power suit for the first time. Just when I thought watching the power suit demolish people and leave nothing but gore piles couldn't get any better, out came a Deathclaw, a bit out of the blue perhaps but do you really care? As a bonus incentive for Xbox players, people who have Windows 10 on their browser will be able to download mods on the pc and transfer them to use on the Xbox One version of the game. It might be obvious, but I can't wait to pick up the Collector's Edition November 10th.
 EA took the stage following and brought up the subject of EA Access, a new program which, for five dollars a month, will allow you to play all of the (12) games in the EA Vault. These include some of the games from the Madden series, Battlefield 4, and Titanfall. Later this year Dragon Age Inquisition will make its way to the vault. If I was correct in understanding, the games acquired through access will come with all released DLC for each game.
With EA came another game I was not expecting nor hoping to see, Plants Vs Zombies Garden Warfare 2. It seems the plants failed their mission, because the game will take place in "Zomburbia". There's no release date at this time, though I suspect it's slated toward the holiday season, or perhaps early 2016.
Forza Motorsport 6 to no one's surprise was announced as well. Henry Ford III himself came out to showcase the game. Motorsport 6 will feature 26 world famous tracks, and will, of course, handle 1080p at 720 fps. As for multiplayer, it will feature up to 24 player capacity per race. It speeds in this December, probably in time for Christmas.
Dark Souls 3 drops early 2016 with what seem to be bigger, meaner bosses. Not a whole lot needs to be said here other than, I would start my training now, if I were you.
After hearing about the Division for over a year now, I'm tired of waiting, and you should be too. The Division takes place in a disease ravaged New York City, after a weaponized virus (of the non-zombie kind) wipes out most of the population. Xbox One players will get to try the beta exclusively, this coming December.
Rainbow Six: Siege was elaborated on a little bit, the story was not mentioned a whole lot, but some delicious details on the multiplayer were talked about in some length, as well as a demo of the game. RB6:S multiplayer will feature an attack/defend style from what I can tell, with a kind of skimpy multiplayer limit of 5 vs 5. Perhaps the number will grow before it's release date, on October 13th.
Announced after Rainbow Six, was a free to play game by the name of Gigantic. I'm unsure whether it's a co-up shooter, or an arena style gameplay, or perhaps both. It had an interesting art style, and no release date was given, though it's assumed to be sometime this year.
When the subject of [email protected] hit the stage, some games they mentioned were Tacoma, a space horror(?) mystery game, Beyond Eyes, an amazing-in-concept game where you play as a blind girl, from the games creator herself, the game is "a story of hope" (also, the trailer made me cry, so…). Another indie game they brought out was called Ashen, not a whole lot was shown, but it seems to be a co-op adventure game, styled like Tomb Raider.
Cuphead (a game which, I'm pretty sure, most of us here at BrutalGamer are ecstatic to try out), was shown off a bit more. Cuphead features 1930's style graphics, and platforming gameplay. The story is about two friends, Cuphead and Mugman, who gambled with the Devil. The Devil then sends them to do his bidding, and that is all we're really told. The game releases in 1936 (plus 80 years), according to the trailer.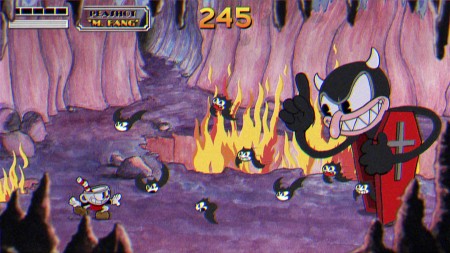 A new game from DayZ creator Dean Hall, will be coming soon. This game goes by the name Ion, and not much was told about it other than it's in space. So….do with that what you will, but let's hope it functions better than DayZ.
One of the most exciting announcements today was a lengthy Rise of the Tomb Raider demo. It features amazing graphics (obviously), and crazy set pieces. This time around Laura, along with her hunting partner Jonah, are searching for a long lost city in the godforsaken frozen mountains of the Himalayas. I would have loved to see more combat gameplay, but I saw all I needed to to make me extremely excited.
And then, from the depths behind the stage, emerged something so great, that I'm not sure words could describe it. It was something no one expected, but everyone hoped for. From the screen, played a familiar tune, then, showed a familiar face. Rareware. To announce the Rare Replay, 30 of the greatest Rare games for 30 dollars. This collection will include classics such as Perfect Dark, Conkers Bad Fur Day, Banjo Kazooie, Banjo Tooie, and obviously, many many more. Not only is this an incredible deal, but also a perfect thing to buy for your kids or nephews or nieces, to get them on track with some of the greatest games of all time. The Rare Replay collection comes to the Xbox One this August.
 Rare also unleashed a gameplay trailer for Sea of Thieves, an Xbox exclusive, pirate themed multiplayer rpg. It will have an incredible art style, and will feature a sailing system, which I can only compare to Assassin's Creed Black Flag. While no release date was given, I'm assuming it will be the middle of next year, though that's just an estimate.
After a short Fable Legends demo (which featured no gameplay), came out something so cool, I thought I would go into a seizure. A live demo was performed on stage with the Microsoft HoloLens, one of the coolest pieces of tech I've ever seen. These augmented reality glasses look easy (as well as fun) to wear. They used Minecraft in the demo, to demonstrate the power the game will have. During the demo they created a world on a flat table, and then put a specially made HoloLens over one of the cameras. The glasses seem to work perfectly, and your head works as kind of a no clip camera, from what I can tell, you play your character with the controller, but your head is the camera. Certainly it will be an interesting way to play the game.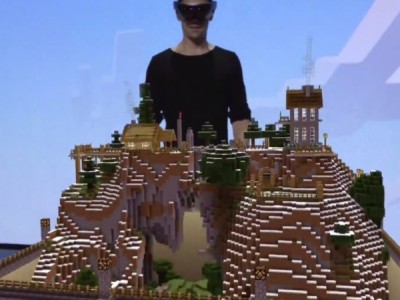 Finally came the Gears of War section. This part of the conference showcased a remake of the first Gears of War game, though sadly not the entire trilogy. As well as a gameplay trailer for Gears 4. The gameplay looks as fluid as ever, and it seems G4 will feature two new main characters, and an exciting new take on the story. The release date for what is sure to be the next Gears masterpiece? Holiday…….2016.
The Microsoft Conference ended on a huge note. The entire thing was, as per the E3 standard, incredibly flashy. It answered a lot of questions, and asked a few in return. This is certainly going to be a huge year in gaming.