A wired pad that'll set your Xbox One up with some neon flair, PDP's new Afterglow Prismatic controller is coming soon.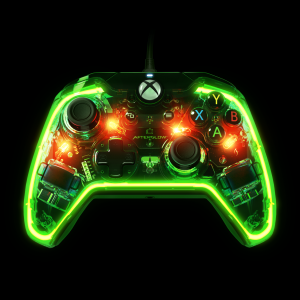 Expanding their already pretty popular lineup of controllers, PDP has a new one for all the Xbox One gamers out there who really, really want to rock out with their console. Wired and with a translucent outer shell, the Afterglow Prismatic comes complete with a built-in LED light show that's fully customizable to whatever color or effect that you want.
You can set your favorite color to be the only one displayed, or cycle through all the shade available, and turn out the lights completely, if you feel in the mood for a little more subdued evening of play. This officially licensed by Microsoft pad also has something called SmartTrack built in as well, which PDP says boosts accuracy for "an unforgettable gaming experience." Added to that, a pair of Dual Multi-Function wheels on the back.
The wheels allow you to customize a total of 6 different actions, with the idea being that you can keep your thumbs on the sticks a little more, and switching over to press buttons a little less. Capping off the feature set, the pad also has a 3.55mm audio jack built into the bottom and included audio controls, so like the new official pad from Microsoft, this one can hook up to your favorite headset/phones with ease.
The Afterglow Prismatic Wired Controller for Xbox One is expected to hit retail some time this year, and will cost you you $49.99 USD.