Looks like all the major players are present and accounted for in the new Marvel Universe, that'll be appearing after Secret Wars- with a few notable changes.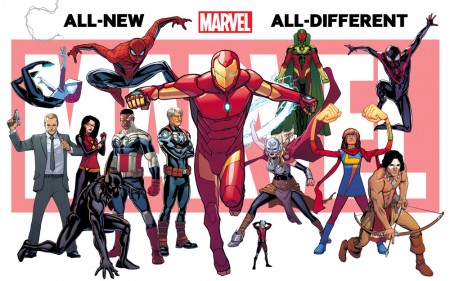 Marvel Comics, the home of the greatest Super Heroes of all time, introduces a new direction for the Marvel Universe. This is All-New All-Different Marvel!

Coming this fall, all fans will be introduced to the perfect start to the Marvel Universe featuring the biggest creative names in the comic book industry – Brian Michael Bendis, Jason Aaron, Mark Waid, Dan Slott, Charles Soule, G. Willow Wilson, Jeff Lemire, along with many more, will have a hand in crafting an all-new and all-different Marvel Universe.

"This is the Marvel Universe," says Axel Alonso, Editor In Chief.  "This fall, we will be inviting readers into a universe comprised of bold new landscapes populated with characters and teams both familiar and brand-new."

"This is going to be an absolute game changer for Marvel," says David Gabriel, SVP of Sales & Marketing. "Similar to the most successful comics industry program of this century – Marvel NOW!, All-New All-Different Marvel is going to be presenting fans new #1's for every title coming out during this event. This is a brand new beginning that honors our past 76 years, yet takes a bold step with daring, and accessible, entry points. Simply stated – this is Marvel!"

This fall, the comics industry's greatest creators invite fans into a spectacular universe that truly represents the marvelous world outside your window!

The All-New All-Different Marvel Universe has arrived!
So that's the pr statement, and here's what we 'know' (along with a few guesses) so far:
In the image above, we see Iron Man front and center, which clearly shows that the man in the iron suit will have a big, BIG part to play in the Marvel U. However, we also know that this isn't Tony Stark, but it is an Avenger. So kind of a mystery there.
We also see that FalCap and Foster-Thor are still around, although while we see old Steve Rogers, the 'real' Thor is nowhere to be found. Curious, especially since he was found 'worthy' again to wield the hammer fairly recently. I kind of expected something to come of that. I'd also like to see Steve get his super-soldier powers back, but keep his current role, not at the expense of Falcon being Cap.
Then there are some expected elements, like both Peter Parker and Miles Morales being in the 616, Ms. Marvel playing a big role, and Black Panther taking on a much larger presence as we head towards his movie launch (same for Ant-Man).
I am a little surprised to see Gwen Stacy in there, and I have to wonder if this means that her character will join the main Marvel U as well, or if she'll stay in her own universe. Maybe as a kind of more limited replacement for the Ultimate Universe?
So that's the first image, here's the second: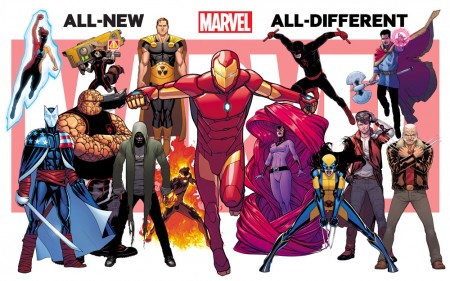 VERY interesting stuff there.
Citizen V (which was originally a Baron Zemo disguise), Thing on the Guardians of the Galaxy, Hyperion being featured, DareDevil getting a new costume, X-23 taking the guise of Wolverine, and freaking Old Man Logan?! I've missed having Wolvie around a ton, so I'm happy to see there's some kind of Logan back in the MU after Secret Wars. I'm also happy to see that, yes, there are mutants still playing a major role in Marvel's books, even if they are both technically the same character.
A few interesting things to note here too in that Iron Man once again plays the star of the shot, which I assume confirms that he'll be one of, if not the biggest heroes in the new Marvel plan. Kind of weird that Dr. Strange has that battle axe too. Oh, and apparently that's Inhuman Karnak in the hoodie. Hmmm, on the outs with the royals maybe? Love that they kept Medusa pretty much the same too, that's a classic look.
Anyway, those are my thoughts on the above, but what do you think? Do you like where Marvel is heading after Secret Wars? Sound off in the comments below.