Secret Wars is an ending and a new beginning for Marvel Comics' heroes and villains.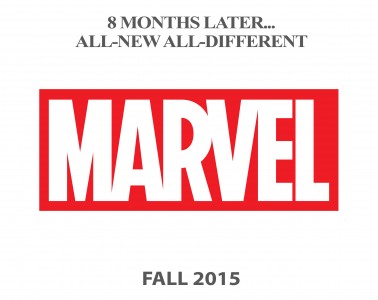 Well, in all fairness, I'm not entirely sure what '8 Months later' is supposed to mean. Nor am I sure what the tag line 'All-New, All-Different' is referring to, though I'm guessing it's safe to assume that there's going to be a brand new quo in the Marvel side of comicdom after Secret Wars comes to a close and some loose ends and aftermath get death with.
It's also interesting to note that All-New, All-Different is a clear play on the classic Giant Size X-Men #1 tag, which of course leads me to believe that there's some major X-news coming. Here's the thing about that though, Marvel has clearly relegated the X-Men and its cadre of mutant characters to the back-burner (why is up to you to decide), so I don't think it's that exactly. Maybe though, the publisher might be referring to an overhaul of its entire line. Maybe that long-rumored, DC Comics-matching, soft reboot is indeed on the way after all.
Marvel has denied that in the past, saying that their universe wasn't broken and that it didn't need a rebooting of any kind, but honestly, I think there are more than a few fans who'd like to see it. Especially after all the retconning that's happened in the past few years. I know I would love it.
Anyway, that's all conjecture as of right now. So for the next few months, just enjoy the Secret Wars and think of what might be coming…