Emerald City Comic Con is this coming weekend and IDW Publishing will be there en force, with plenty of special guests, panel presentations, and a special exclusive variant edition of Jem and the Holograms that you're not going to want to miss.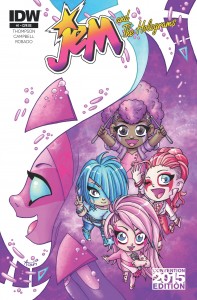 Jem has been making something of a buzz in the comics world, and for good reason as the cartoon series that was so massively popular in the 80s hasn't seen the light of day in years. Now with the new ongoing comic, IDW has reawakened a fan base that's ever so slightly rabid for new merch. San as that goes, a limited edition, Comic Con exclusive cover certainly fits the bill. The book will cost you $5.00 USD and will only be found at the IDW booth on the show floor.
Even if you're not a Jem aficionado though, there's plenty to like from IDW at ECCC in Seattle. If titles like Orphan Black, Samurai Jack, Powerpuff Girls, Teenage Mutant Ninja Turtles, Judge Dredd, G.I. Joe, and Transformers are your speed, then you're going to want to check out some of the panels and signings that the company will be putting on.
All of the below will be taking place during the Con's run, which will be this Friday, March 27th, through Sunday the 31st.
Signings (at the IDW booth, #1225)

Friday March 27th

11:00 – 12:00 Orphan Black – Jody Houser 
12:00 – 1:00 Samurai Jack, Powerpuff Girls – 
            Andy Suriano, Derek Charm
1:00 – 2:00 D4VE, The Bigger Bang – 
            Ryan Ferrier, D.J. Kirkbride
2:00 – 3:00 Jem & The Holograms –
           Agnes Garbowska, Sara Richard
(*Check out the show exclusive variant!)
3:00 – 4:00 Dirk Gently – Chris Ryall, Tony Akins
4:00 – 5:00 Godzilla: Cataclysm – Cullen Bunn
5:00 – 6:00 Kill Shakespeare – Conor McCreery
6:00 – 7:00 Nelvana of the Northern Lights  – Hope Nicholson

Saturday March 28th

10:00 – 11:00 Skylanders – David A. Rodriguez 
11:00 – 12:00 Edward Scissorhands – Kate Leth, Drew Rausch
12:00 – 1:00 Dirk Gently – Chris Ryall, Tony Akins
1: 00 ­– 2:00 The Fly: Outbreak – Brandon Seifert
2:00 – 3:00 My Little Pony, Jem & The Holograms – Sara Richard
3:00 – 4:00 Wild Blue Yonder – Zach Howard
4:00 – 5:00 Teenage Mutant Ninja Turtles & More! – Erik Burnham, Paul Allor
5:00 – 6:00 Judge Dredd – Darick Robertson 
6:00 – 7:00 Transformers – Mairghread Scott, Andrew Griffith, Livio Ramondelli

Sunday March 29th

10:00 – 11:00 My Little Pony – Amy Mebberson, Georgia Ball, Ted Anderson, 
           Agnes Garbowska
11:00 – 12:00 Powerpuff Girls – Derek Charm
12:00 – 1:00 G.I. Joe Cover Art – Jerffrey Veregge, Drew Johnson
1:00 – 2:00 Amelia Cole, Artful Daggers  – D.J. Kirkbride, Adam P. Knave, 
          Sean E. Williams
3:00 – 4:00 Dungeons & Dragons: Legends of Baldur's Gate – Max Dunbar 

And don't miss out on the panels that are sure to be a highlight of your weekend!

Friday, 1:00 – 2:00 Room Hall C (TCC 301)
IDW: 2015 and Beyond—IDW invites you to join in their first big panel of 2015! Join VP of Marketing Dirk Wood, Editor-in-Chief/Chief Creative Officer Chris Ryall, alongside editor Sarah Gaydos, Erik Burnham of Ghostbusters fame, and Jody Houser, writer of the hit Orphan Blackcomic for a spirited chat filled with announcements, hijinks and Q&A!

Saturday, 2:00 – 3:00 Room Hall C (TCC 301) 
God is Disappointed in You (The Sequel), with Mark Russell & Shannon Wheeler—Last year's standing-room-only hot ticket returns — now with even more Biblical bewilderment! God Is Disappointed in You, published by Top Shelf, is the tongue-in-cheek "condensed" version of the Bible you never knew you needed — hilariously modern, but surprisingly authentic — packed with cartoons by Eisner-award-winner Shannon Wheeler (The New Yorker, Too Much Coffee Man). Join him and author Mark Russell (writer of DC Comics' upcoming Prez) for an hour of unforgettable irreverence, including Q&A, audience sketches, and the hilarious-yet-accurate "ten-minute Bible." PLUS: a taste of the Audie-nominated audiobook, read by Dr. Venture himself, James Urbaniak (The Venture Bros), and an exclusive announcement about the upcoming sequel!

Sunday, 3:30 – 4:20 Hall F (TCC 304)
Kevin Eastman: A Life With Turtles—Join the legendary co-creator of the Teenage Mutant Ninja Turtles and he talks about his long career in both comics and Hollywood, and how he brings his beloved Turtles to the world in a variety of media!

Sunday, 4:00 – 5:00 Room Hall C (TCC 301) 
IDW Presents: The New Class of Licensed Comics—Transformers, Adventure Time, Star Trek, Orphan Black, My Little Pony: Friendship is Magic… What do these comics all have in common? They're all licensed comics, and although some may STILL look down on them, they're also home to some of the best talent telling the best stories around. Come hear about the good (and the sometimes challenging) aspects of working on books like these, from host Editor Sarah Gaydos (Star Trek, Disney, Edward Scissorhands), with special guests Kate Leth (Bravest Warriors, Edward Scissorhands), Corinna Bechko (Star Wars, Planet of the Apes, Once Upon a Time), Jody Houser (Orphan Black), Editor Shannon Waters (of BOOM!), Chris Roberson (Aliens, Star Trek), and Gabriel Hardman (Planet of the Apes, Star Wars).