Armor Wars sounds like one of the coolest Warzones in Secret Wars, with an armored-up citizenry and superhero populace, and one terrible secret.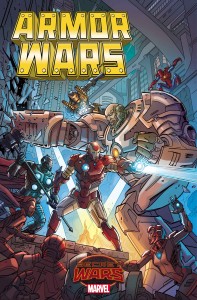 VERY different than the Armor Wars that you know from the classic Iron Man event, this world (and part of Battleworld) comes from a universe where everyone on Earth has to wear a suit of high-tech armor just to survive- even ultra-powerful superheroes like Hulk and Thor. A deadly virus has spread, and it kills everything non-armored, which means that every living soul owns his or her life to Tony Stark and his brother Arno.
The pair have a nice little rivalry going too, in which they're constantly building up the world into a technological marvel. But there's something wrong, and it's not just the virus. A murder kicks off a spree of death that Baron Tony Stark must stem before things get out of hand.
"We've got this absolutely cool as heck city filled with absolutely cool as heck armored citizens," says Senior Editor Mark Paniccia. "The design work that Marcio has done with both the environment of Technoplis and the armors of all the various characters deserves its own coffee table art book.

"Plus, James is delving into the kind of emotional and hard hitting story he excels at," continues Paniccia. "He's doing some amazing world-building and bringing us a mystery that—as it's peeled back—will shock readers and make their hearts sink into their stomachs."
Armor Wars #1, a part of Secret Wars, lands in stores this Jube from the team of James Robinson and Marcio Takara, with cover art by Paul Rivoche.