Fresh out of Oregon, west coast metal band Jahai is ready to bring the glory of the genre back to the fore with Death and Entrances.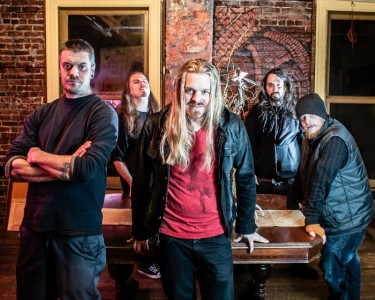 JAHAI is bonded in blood, brotherhood and brutality as this established Cascadian metal band takes its name from an ancient culture of nomadic hunters.
I think that just about says all you need to know about one of the fastest-rising metal bands around today, no? Oh, you need more? Okay, well in that case, Jahai is making a name for themselves after first forming in the US northwest with brothers Nikk and John Jahai in the early 2000's. Adding bandmates Loyd Abbott in 2006 and Jake Wilde in 2011, the group finally solidified its roster in 2012 with the addition of lead singer Aub Driver, whose vocals rock with the best of them.
Since coming together, the group has been rocking their way through the metal scene and has shared the stage with talent like Killswitch Engage, Black Dahlia Murder, and Shadows Fall.
"We've placed our blood, sweat and souls into creating music that is both awesome and abrasive – that's the true beauty of metal, after all," noted Aub Driver. "This initial offering to the metal gods showcases our strength, talent and potential."
Now that's metal right there. The album, which is entitled Death and Entrances, will be available on March 31st with a track list that looks a little something like this:
Realm of the Dark Gods
Last and Only
Breaking Into Splinters
Pandora's Box
Lucky Witness
Want to attend the most metal release show of the year? That'll be taking place on April 4th at Dante's Nightclub in Portland, OR. Can't make it? Don't worry, there are more dates yet to be announced, so you'll have more than one shot to catch Jahai live. In the meantime though, why not check out the debut music video for their song Breaking into Splinters? Tip: crank it up. This is METAL.