Bandai Namco's latest is free-to-play, and actually looking pretty sharp.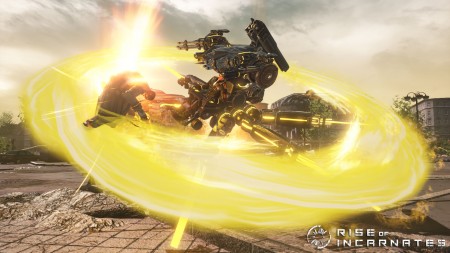 Now available for download on the PC over Steam's Early Access section, Rise of the Incarnates is an original IP for publisher Bandai Namco, and is kind of unique in that it's a free-to-play fighting game. How many of those can you name off the top of your head? Personally, I can't think of one. And while free-to-play is something of a dirty word to many gamers out there, this one actually might have some teeth, and looks pretty neat.
8 playable, super-powered fighters in total make up the roster in this early release, and each one of those will have a radically different power set that you can employ in battle. So different are their abilities that the company says that there's a combatant here for just about every gamer's taste, which should make for some interesting fights. Those fights, by the way, take place in a 2-on-2 style and can be waged in both the New York City and Paris maps at the moment (with more presumably to come). "Versus matches, Arcade mode and Bot matches" are all included as well, and you'll be plenty busy as you fight your way across the maps as it almost sounds like Rise of the Incarnates is an action game/fighter hybrid.
Could be pretty neat, and hey, it's free so there's no risk to giving it a shot.