This Spring's Convergence event, which sees Brainiac crossing the dimensional barrier and bringing together DC's multiverse, will result in 24 all-new series' from the publisher. They'll be joining an already existing the moving forward slate of 25 books to make a monthly schedule of 49. Yep, no more New 52.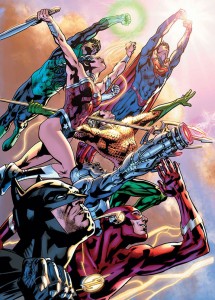 Now, before you go get your red outer-undies out of the closet, this doesn't mean that the New 52 continuity will be going away. The newer versions of the characters that you know and love will still e the ones that are featured in the DCU monthly books every time you head down to your LCS, but gone is the 'New 52' label and in are a bunch of new comics, many starring some big name heroes and with some big name talent behind them.
Not only will the popular Batman, Superman (complete with John Romita Jr.), and Wonder Woman comics be continuing, but characters like Starfire, Cyborg, and Black Canary will be getting monthlies as well as the DCU expands a bit and broadens their horizon.
"This heralds in a new era for the DC Universe which will allow us to publish something for everyone, be more expansive and modern in our approach and tell stories that better reflect the society around us," said DC Entertainment Co-Publisher Dan DiDio.  "Whether you've been a DC fan your whole life, or whether you are new to comics – there will be a book for you beginning in June."
Some characters and teams will be getting something of an overhaul too, as books like Constantine and Justice League Dark are cancelled to make way for Constantine: Hellblazer (which will be penned by Vertigo scribe Ming Doyle and drawn Riley Rossmo) and Dark Universe. Likewise the Justice League will be getting back to their roots with a brand new JLA (Justice League of America) book. The comic will be written and drawn by Bryan Hitch, who makes his return to the DCU after working with Marvel for a while and crafting his own creator-owned comic at Image.
Quite a bit of what's happening is being done to better match the current climate for comics in general, and to appeal to the bigger market, which is exposed to these classic characters not just through comics, but also TV and the movies. That's not to say that the TV characters are going to take the place of the comics versions though, Jim Lee explains:
"More than ever before, DC Comics fans are being exposed to our rich portfolio of characters through multiple sources, including an unprecedented number of highly successful TV shows, video games and upcoming major motion pictures," said Co-Publisher Jim Lee.  "We are looking to extend that experience within publishing to ensure there is a comic book for everyone.  For example, fans of the ARROW television show may want more stories about BLACK CANARY. Now they can find modern, fresh takes on the character in the pages of her standalone series both in stores and digitally."
Not just limited to ongoing comics either, the new lineup will feature in a bunch of limited series', which is definitely fitting with what the rest of the industry seems to be up to. Expect to see one-off stuff that doesn't mesh with the greater DCU, like Bizarro, fall into this category. It's a way for DC to shake things up and tell stories that you normally wouldn't expect from them, which sounds like a great idea and seems to work out well for other publishers. One of the first will be series from the popular '90s comic Hitman. Both Garth Ennis and Joel McCrea (who worked on the original book) will be onboard.
If you're a DC fan, this is pretty exciting stuff. Not only is the 'New 52' heading fading away (about time), but the DCU will be more updated and current, and seemingly be taking a lot more chances. I don't think you would have seen a Starfire series not all that long ago to be perfectly honest. You also wouldn't have seen a Dr.Fate series under the New 52 banner, but he's coming as well in a brand new book.
Also very cool, DC has announced that their Free Comic Book Day offering will be titled DC Comics: Divergence and will feature a trio of 8 page previews with Scott Snyder and Greg Capullo's Batman, Geoff Johns and Jason Fabok's Justice League (which will have a tease for Darkseid War, DC's next big event), and Gene Luen Yang and John Romita, Jr's Superman. That comic will be in stores on May 2nd, which is Free Comic Book Day at your Local Comics Shop.
Everything starts up this June, so make sure you have a look at the full list of what's new (and returning) here on DC's page and get your pull list updated.