PAX South will be your first place to get your hands on the New 3DS, as well as a little game called The Legend of Zelda: Majora's Mask 3D.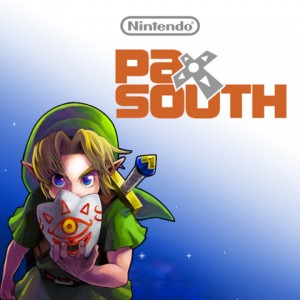 Those eagerly awaiting the arrival of Nintendo's newest hardware revision will definitely want to be in attendance at PAX South in San Antonio, Texas later this month. The event will not only be a massive game culture show and meeting of companies and public, but also the showplace for the New 3DS XL as well as a few select titles that gamers will probably want to dig into on the new handheld.
Capcom's Monster Hunter 4 will be on display for gamers to spend some time with, as will the already available Super Smash Bros. It's the Legend of Zelda remake though, that's sure to get the lion's share of the attention. Majora's Mask is a favorite of series fans and one of the all-time classic titles front he N64 era of gaming, as a result, the 3DS remake has been met with quite a bit of enthusiasm from the fan base, and you know what that means. Yep, these are going to be some looooong lines.
Good thing there's more Majora's Mask goodness to be had than just playing the game. All visitors to the Nintendo booth (which is #1234 on the show floor) will be able to take some snapshots with a life-size replica of the title mask from the game as well as pick up a free paper copy to wear around the con. Nintendo is also having a pretty neat little challenge to celebrate the game and capitalize not he 72 hour time limit that is featured in this particular Zelda adventure. You can find out more about the challenge coming up on Nintendo's Twitter account (@NintendoAmerica), as the details haven't been finalized as of yet, but the gist of it is that you'll be crafting your own mask in the vein of Majora.
If crafts aren't your thing and you'd rather just play the game though, there is a way to pass that monster line right by. All you need do is come dressed as your favorite Legend of Zelda character, or simply wear something "inspired" by the game, and you'll zip right past everyone else and get your mitts on it. Sure, you'll no doubt be on the receiving end of some angry glares, but you'll be playing around in Hyrule, so what do you care?
It's all happening at PAX South, which runs from the 23rd of this month through the 25th. As for The Legend of Zelda: Majora's Mask 3D itself and the New 3DS, both game and console will be hitting retail stores on February 13th.