Jaybird's Bluebuds X headphones just might be the best wireless set of buds that you'll ever use.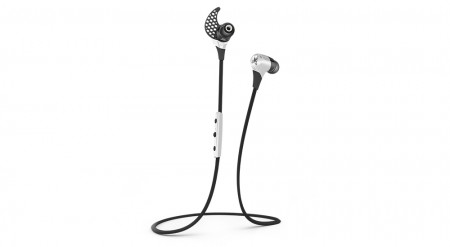 I love the idea behind wireless earbuds. Well, actually, I just love earbuds in general. I know that they don't give you the kind of sound quality that you can get from an over-ear headphone, but I'm not really the type of person who's going to walk down the street with a massive pair of 'phones on my head, regardless of the sound you can get from them. I'm just not a fan of the look, and quite frankly it takes me way too long to get my hair looking decent in the morning to then plaster it down with headphones.
As far as wireless earbuds, I did already have a set when I received the BlueBuds X for review. I had used my pair of YerBuds for a while as they're quite convenient, fit nicely, and sound pretty darn good. Here's the thing though, they do tend to fall out once in a while (especially when exercising) and they lose connectivity with my iPhone whenever it's too far away.
And by that, I mean that when my iPhone is in my left front pants pocket and I turn my head to the right, I get a skip in the music. It's annoying, not awful, but annoying and I've found myself going back to my Bose (wired) headphones on occasion when I know I'm going to be wearing them for a while on a long walk or something.
Keep in mind all my little gripes with wireless earbuds as we go through this review, because all of it will be addressed. For starters, lets take a look at the physical package that the BlueBuds offer.
The buds that I received for testing are white, but Jaybird also offers a black pair. I have to say as a fan of the latter color (in just about every piece of electronics I own), that the white are actually pretty cool and manage to look very nice indeed. They don't stick too far out of the ear either, something that can be an issue with wireless buds since so much is built into the actual buds themselves. And they stay put nicely too.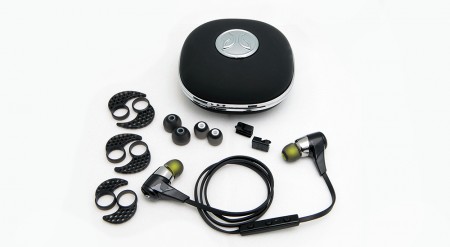 Very nicely actually, since the BlueBuds come complete with three sets of silicone bud-covers to fit the size of your ear canal correctly, they keep the tunes in and the world out. Though you could use them just like that, the BlueBuds also come with a trio of wing-like 'ear cushions'. The cushions pop right onto the buds themselves (they're very secure) and fit to the inside of your ear. This gives a maximum level of 'fit' and mimics one of my favorite things about the Bose headphones I mentioned earlier. Simply put, they'll fit any ear and will not fall out.
The cord for the BlueBuds X' is flat (which I happen to really like as well, since it reduces tangle to a small degree) and houses a full remote control suite. volume up/down buttons flank a central button that facilitates connection to your device (via bluetooth), as well as working as a power on and off button. The volume up and down controls can also function as a fast forward and reverse setup if you hold them down for a second, which is terrific since you don't really have to take your phone (or whatever) out of your pocket to switch tracks. Oh, and yes, you can answer and hangup on calls with the central button as well.
There's another neat little feature to be had with the cord as well in that it can be worn in several ways. You can either let it hang in front or behind the neck in the traditional under-ear fashion, or kind of bundle it together and strap it behind your head for maximum mobility and no interference. The idea is that when you work out, it won't get in your way, and it works really well in practice, utilizing the included clips. It's not bulky at all either when you bundle the cord up, and stays put as well. Kind of a small thing, but it makes for one more cool things that these buds can do.
Speaking of working out, these phones also have Liquipel, which is a sweat repellant, nano technology. And while you're not going to want to submerge the BlueBuds in a few feet of H2O, you can be assured that a little sweat is going to be laughed off by them and not be a problem or make your music cut out.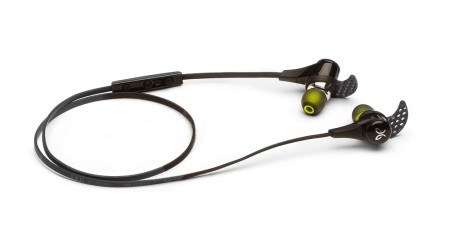 As for the sound quality, quite frankly it's terrific. The BlueBuds X contains a bluetooth codec called Shift, a technology that eliminates much of the loss suffered traditionally when a wireless pair of headphones decompresses a compressed piece of music sent from a phone or other digital must player. Jaybird says that they've spent quiet a bit of time and money on investing in speaker technology and that they've fine-tuned the BlueBuds to the utmost. I'm inclined to believe them as the audio is excellent and even eliminates the minute levels of white noise that standard headphones can create while in use.
Bass thumps (as long as you've got a good seal between the headphones and your ear canals), and instruments and vocals are as crystal clear and detailed as you'd expect them to be with a good quality set of wired headphones. It might sound like a stretch to say, but this pair of phones really is that good.
Remember back at the beginning of this review when I mentioned that when my pair of bluetooth earbuds got too far from my iPhone the audio would cut out for a second or two? Well you won't find that here at all. The BlueBuds X employs something called Signal Plus, which keeps your phones connected to your device, no matter which pocket you have it in. I've even walked away and to the other side of the room while wearing the BlueBuds X (and leaving my iPhone on my desk) and had no signal loss at all. Now that's impressive.
And one final thing that's also pretty impressive, one charge with the included USB cable will power up the BlueBuds X for about 8 hours. That's plenty of time for a workout each day of the week, or a full day of tunage as you go about your daily tasks.
Final Thoughts
I have to admit, I wasn't expecting this kind of an experience from the BlueBuds X, but they're flat-out phenomenal and one of the best pairs of headphones I've used in the past few years.
The wireless connectivity is second to none, the sound quality is excellent, and the BlueBuds X has all the bells and whistles that you'd demand and expect from a top-shelf pair of wireless headphones. Throw in all the little extras that I didn't even know I wanted (like the added way to wear them and the hydrophobic Liquipel coating) and you've got a winner of an accessory for your music device of choice.