The first in a new lineup of high-end collectables, Borderlands 2's Miss Moxxie 'Good Touch' joins TriForce's stable.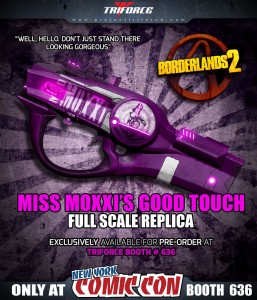 There isn't a whole lot to report about this one yet in terms of size and scope or pricing, ,but for Borderlands fans, it's just a very pretty sight to even see. The first offering in the new series of replicas based on Gearbox Software's FPS/RPG series, Miss Moxxie's Good Touch will be exclusive to the upcoming NYCC comic con that kicks off early next month in New York City.
The weapon has all the bells and whistles that you'd come to expect from  the company, including lighting effects and a heft that actually will make you feel like you're hoisting the 'real' gun up to fire. If you've ever owned a TriForce piece before and you're a fan, then you know that this is one not to be missed. You can pre-order it at booth #636 on the show floor.