The classic Electro battles Spidey in a set available exclusively on MarvelShop.com.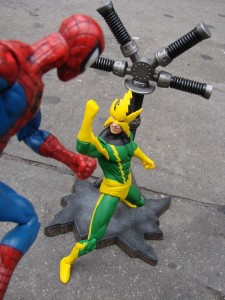 Not the Ultimate or movie-verse version, this is a the classic comic book Electro here, doing battle with the web-head in all his glory. I can only think of two other classic versions of Electro that made it to the toy aisles off the top of my head, so this is kind of a rare occurrence.
A part of the Marvel Select line of collector figures and sculpted by Sam Greenwell (he also did the Superior Spider-Man, Storm and Silver Surfer figures), both of these figures were made to reflect their iconic looks from the Amazing Spider-Man comics. While you've seen this Spidey before though (as a single figure offering), Electro is brand new. With 16 points of articulation and standing in at 7″ tall, he should e a worth foe for the wall-crawler too.
Like some older releases, the set is a MarvelShop.com exclusive to start with. From now till September 8th, that's the place to nab these guys for yourself. After the 8th, you'll be able to get them on DisneyStore.com as well, and then eventually in the brick and mortar Disney-brnded shops as well.