Oh, the headset. It seems like such a simple thing, but it's so hard to get it just right. You need perfect sound, of course – after all, hearing an approaching footstep or the click of a gun being cocked can mean the difference between "achievement unlocked" and "game over". But a great headset is so much more than just great sound. You need comfort for long gaming sessions, a serviceable microphone for conspiring with teammates, and it wouldn't hurt if it can double as an on the go headset for your mobile devices too. Oh, and along with all that – it needs to be affordable. That's a pretty hefty order, but it is what gamers want – one headset that can tick off all those boxes is worth a dozen cheap imitations.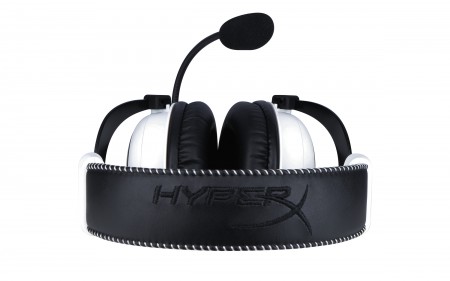 The HyperX Cloud from Kingston is the official headset of Alliance Gaming and Team Liquid, and at first glance it's pretty impressive. Packaged within a foam casing inside a really solid box that makes for great storage, the headset itself is rather massive. Boasting large ear cups that rest comfortably over the ears, aluminum construction for maximum durability, and a padded leatherette that is rather generously padded, this is a headset that may not get high marks on throw in your pocket portability – but it makes the grade on everything that counts.
First, let's discuss the ear cups – an essential piece of that all important sound feature. So how does it sound? In a word – great! I was really impressed with the clarity of sound you get from the HyperX. Whether you're creeping through a dungeon or rocking out to your favorite jams, the 53mm drivers deliver with high quality sound and much needed clarity – and taking it from gaming to jamming is as simple as moving a cable. The HyperX comes with two different ear cups included – one in leatherette, the other in plush velour. Both are equally comfortable resting over your ears, and it's nice to be given the option to customize to your personal comfort without shelling out extra cash. The generously sized cups enclose your ears, and do a great job of keeping unwanted sound out, while enhancing what you need to hear for best gaming performance. And talk about comfort – the addition of memory foam means these babies can rest on your ears all day in maximum comfort, a must for hardcore gamers.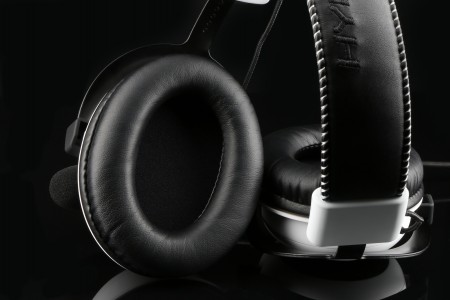 Fit is equally important, if you want a headset to perform optimally, and the HyperX does pretty well on that score as well. The aluminum pieces that connect the ear cups to the headbands pull out to adjust (and they are really quite durable without being overly heavy). Fully extended, they fit even the largest of heads, but fully unextended they even made a nice fit for the young gamers in my household (and it is not an easy task to find a quality headset that will actually fit your average ten year old gamer, despite it being on many wishlists for that age range). The headband itself is very generously padded, resting comfortably on your head without any strain from the weight of the headset.
If style is also on your list when it comes to headset must-haves, the HyperX strikes a sweet note with a chunky and somewhat futuristic style that will look great gracing any game room. The ear cups and sides of the headband are of soft matte plastic that feels velvety to the touch. The leather look headband has a contrasting stitching across the sides that gives it just a little extra style. The HyperX looks like a really expensive headset, even though if retails for under a hundred dollars.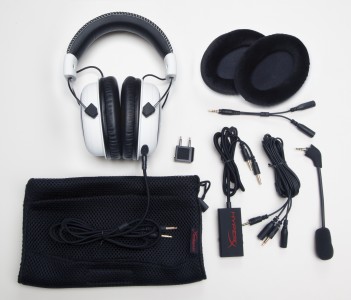 If you're the type that gets giddy for accessories, you're going to love everything that's included with this package. Of course, you get the headset and the aforementioned pairs of ear cups, along with a nicely sized cord and easily detachable microphone. But you'll also get a great carrying case for traveling with your headset – it fits the headset nicely in a main pouch, with an side velcro pouch for any extras you choose to bring along – and the whole thing fits easily into a backpack or briefcase (although it's a tough fit for all but larger purses).  Kingston includes a headset splitter, an extension cable for long range use, a control box (great for use with phones) that also has a nice long cord, and even an airplane adaptor. It's literally everything you'll need to use the headset to full potential, included at no extra cost. Score!
Final Thoughts
If you're looking for a high quality gaming headset that won't break the bank, you can't go wrong with the HyperX Cloud Pro Gaming Headset from Kingston. With ultra clear sound, unparalleled comfort, and plenty of style, it ticks all the boxes for gamers looking for a headset that's as hardcore as they are.