Just announced at the San Diego Comic Con, 12 new creator-owned books are on the way from the publisher in 2014/15.

Never a publisher to rest on their laurels, Dark Horse Comics has a pretty nice slate of books coming up from names that you know and some that you don't. Right along with the likes of Mike Mignola, Matt Kindt, and Paul Tobin you'll find talent like Shaun Simon and Caitlín R. Kiernan. It's a pretty eclectic bunch in more than just the folks behind these new books too as the comics themselves are as wide-ranging as you can imagine.
You'll find a new Hellboy series here sure, but you'll also find a comic about a bunch of revolutionaries in the American war for independence, a story about a bunch of superheroes trapped on a mystical farm after a 'cosmic battle' and, oh yeah, a sequel to Fight Club of all things.
Check out the official descriptions below, complete with launch dates, and start picking which you'll be adding to your own pull list at your LCS.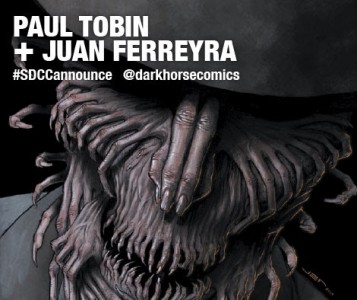 Colder: The Bad Seed
Writer: Paul Tobin
Artist: Juan Ferreyra
On sale October 22, 2014
Life goes on for Declan Thomas after his deadly encounter with the psychotic Nimble Jack, but Declan's strange powers continue to develop, offering him a profound connection with the nature of insanity. Little does he know that the malevolent Swivel wishes to pick up where Nimble Jack left off!
Bloody Disgusting has the exclusive interview with Paul Tobin!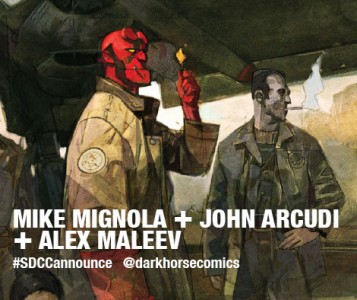 Hellboy and the B.P.R.D.
Writer: Mike Mignola with John Arcudi
Artist: Alexander Maleev
On sale December 3, 2014
A bizarre series of murders and rumors of something worse lead Professor Bruttenholm to send a young Hellboy to a Brazilian village on his first mission. Hellboy and a small group of agents uncover something terrible in the shadows of a sixteenth-century Portuguese fortress . . .
Nerdist has the exclusive interview with artist Alex Maleev!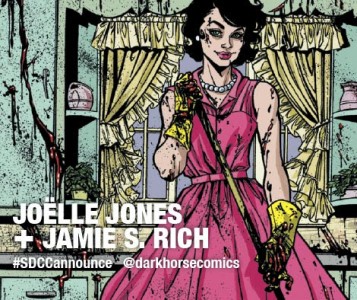 Lady Killer
Writers: Joëlle Jones, Jamie S. Rich
Artist: Joëlle Jones
On sale January 7, 2015
The Schullers are every bit the American family: father, mother, and twin girls. Daddy has a good job, and though he works in the city, he can afford a nice house for his family in the suburbs. It's a good place for the kids to grow up, away from the crime and questionable morals of city life. But what if the crime and the violence aren't that far away? What if Mom isn't just a housekeeper and a cook, but she's also a highly paid professional assassin?
ComicsAlliance has the exclusive interview with Joëlle Jones!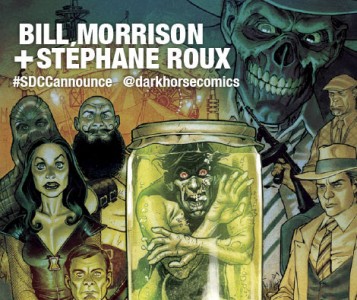 Dead Vengeance
Writer: Bill Morrison
Artist: Stéphane Roux
On sale January 21, 2015
It's 1940, and a phony body on exhibit in a carnival sideshow suddenly springs to life and shambles away. Not so phony after all, he is John Doe, radio commentator and archenemy of Detroit's notorious Purple Gang. But why did he disappear in 1930, and why did the mayor, the mob, and the cops all want him dead?
Bloody Disgusting has the exclusive interview with Bill Morrison!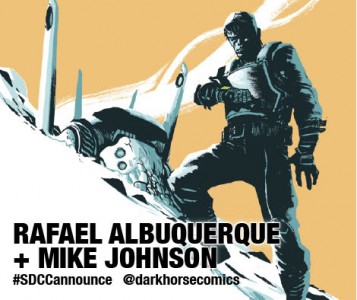 EI8HT
Creators: Rafael Albuquerque and Mike Johnson
Coming February 2015
Welcome to the Meld, an inhospitable dimension in time where Joshua, a chrononaut, finds himself trapped. With no memory or feedback from the team of scientists that sent him there, he can't count on anything but his heart and a stranger's voice to guide him to his destiny.
Visit io9 for the exclusive interview with Rafael Albuquerque!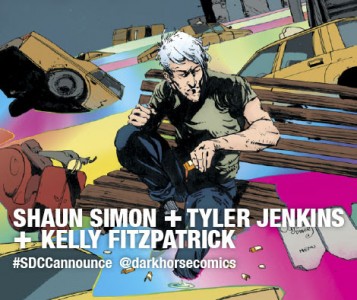 Neverboy
Writer: Shaun Simon
Artist: Tyler Jenkins
Colorist: Kelly Fitzpatrick
On sale March 4, 2015!
In what world do you belong?
Neverboy, an abandoned imaginary friend, wants the real world. Julian Drag, a struggling artist, wants the imaginary.
When Neverboy's drugs wear off, the surreal hangover he's been running from sets in. And a trip down the rabbit hole is just what Julian has been dying for. When these two meet, the real and the imaginary worlds collide in absolute chaos. Julian and Neverboy, the dreamer and the dream, will have to face who they are in order to put things right again.
Visit Bleeding Cool for the exclusive interview with Shaun Simon & Tyler Jenkins!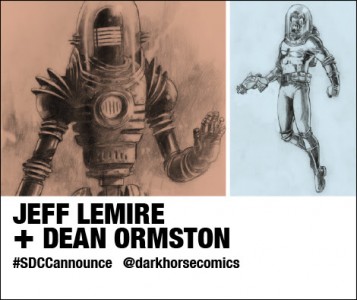 The Black Hammer
Writer: Jeff Lemire
Artist: Dean Ormston
On sale March 11, 2015
They were the greatest heroes of a lost era. But the age of heroes is over, and Abraham Slam, Col. Weird, Golden Gail, Barbalien, and Madame Dragonfly have been wiped out of continuity! Following a cosmic battle known only as the Event, the heroes awoke on a farm in a small town they are unable to leave, with the massive iron hammer of a fallen teammate the only reminder of the world they came from. As their tenth anniversary on Black Hammer Farm nears, they've largely given up on any chance of return, until the arrival of the Black Hammer's daughter throws their new existence into chaos! The Black Hammer is part human drama, part multiverse-spanning adventure, and part journey into the DNA of the superhero genre!
Comic Book Resources has the exclusive interview with Jeff Lemire!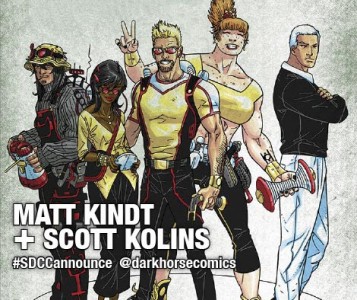 PastAways
Writer: Matt Kindt
Artist: Scott Kolins
On sale March 18, 2015
When a deep-time research mission goes awry, four future explorers find themselves stranded in our present, where a side effect of their mission grants them unexpected immortality! As further time breaches cause dinosaurs to appear in Greece and buildings from the future to crash into Toronto, the unlikely heroes find themselves humanity's best line of defense from the onslaught of time itself! The team achieves worldwide fame, and their adventures become more and more bizarre, even as their failure to get back to their own time leads to infighting and catastrophe!
Comic Book Resources has the exclusive interview with Matt Kindt!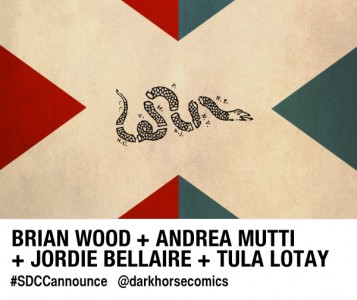 Rebels
Writer: Brian Wood
Artist: Andrea Mutti
Colorist: Jordie Bellaire
Cover Artist: Tula Lotay
Coming April 2015
From Brian Wood, the creator of DMZ, Northlanders, and The Massive, comes Rebels, a gritty, ground-level look at the men and women who fought to win independence from tyranny and those who would stand in their way.
Cocreator Andrea Mutti (The Girl with the Dragon Tattoo) illustrates the opening story, introducing us to the Green Mountain Boys, America's first militia, and one young couple's journey across the battlefields of New England. Colorist Jordie Bellaire and cover artist Tula Lotay complete the team with gorgeous palettes and striking illustrations.
Nerdist has the exclusive interview with Brian Wood!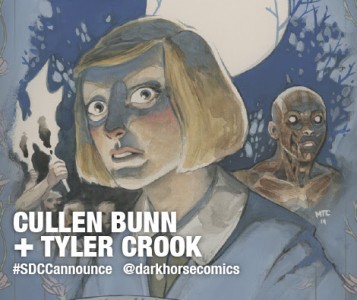 Harrow County
Writer: Cullen Bunn
Artist: Tyler Crook
On sale April 8, 2015
"Her earliest memories were of the taste of freshly turned earth and the bleating of goats."
There's them that say you ought not get lost in Harrow County. Because once you lose your way among the pines and briar thistles and those sweet-smelling scuppernong, you won't never find your way back. Born on the very day a hateful witch was put to violent death, seventeen-year-old Emmy has always felt a bit lost . . . but never alone. The deep, dark woods surrounding her home crawl with ghosts, goblins, and the restless dead. These haints whisper to Emmy, promising her that she has great power, warning her that the people of Harrow County want her dead.
Comic Book Resources has the exclusive interview with Cullen Bunn!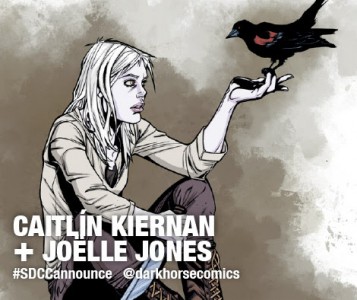 Alabaster: The Good, the Bad, and the Bird
Writer: Caitlín R. Kiernan
Artist: Joëlle Jones
On sale May 20, 2015
A year after Dancy Flammarion's death in a burning barn, her seraph comes to collect her from a hell of her own creation. A new evil haunts the sun-scorched back roads and ghost towns of the American South: murderous twins who command a legion of ghouls. Once again, Dancy must face down demons, both those who walk the world unchallenged and those in her own shattered mind.
The Mary Sue has the exclusive interview with Caitlín R. Kiernan!
Fight Club 2
Writer: Chuck Palahniuk
Artist: Cameron Stewart
Cover Artist: David Mack
Coming May 2015
The first rule is you don't talk about it.
USA Today has the exclusive interview with Chuck Palahniuk!
Comic Book Resources has the exclusive interview with Cameron Stewart!