The toy maker will be dipping back into those famous Kenner moulds for a new jumbo figure that pretty much every Star Wars fan is going to want.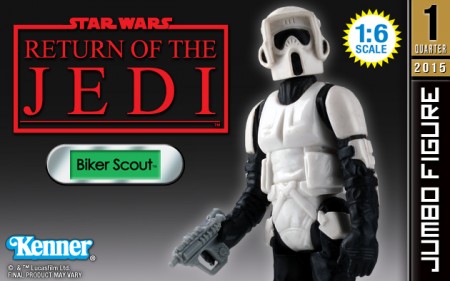 Well, I know I want it anyway. The Jumbo Biker Scout is officially on the way (speeder bike not included), for early next year. These variations on the Imperial Stormtrooper were faster and less armored than their cannon-fodder cousins and were meant for scouting terrain for Rebel troops.
They were one of the most popular villain troop types from the original trilogy too, and still are today. Personally, I had a few of them as a kid and my Rebel forces were constantly getting harassed by them in their hidden bases. Now Gentle Giant will be bringing back the classic mould for the character as he appeared in plastic back in the '80s.
Just like they were when you were a kid, only BIGGER! Gentle Giant is proud to bring you the latest addition to our exciting line of vintage Kenner-inspired Star Wars Action Figure reproductions with the release of the classic Biker Scout Jumbo Figure. 

Digitally scanned from mint 3 ¾" Kenner originals and reproduced at a Jumbo size, no detail has been overlooked. Roto cast and made of durable plastics, this jumbo figure includes a faithfully reproduced Scout Blaster accessory! It even comes fully articulated! 

With a commitment to keep in line with the vintage Kenner experience, Gentle Giant has packaged this  figure with a Return of the Jedi-inspired backer card featuring original photos and artwork. Designed with the collector in mind, the figure comes in a resealable plastic outer clam shell to help protect and display this limited edition figure.
The figures will cost $80 USD each and stand in at a little over a foot tall. You can expect to see them start scouting out online retailers and finer comic shops everywhere in quarter 1, 2015.