Not much more than a name has been made official for 343 Industries' upcoming Halo sequel, but that's more than enough to get fans excited.
A long time coming, Halo 5 (though it wasn't titled at the time) was actually first announced about a year ago at E3 2013. Shown with the trailer you see above, the game was a mystery in just about every way possible, including the name, and we really weren't even sure  if it was going to be 'officially' Halo 5 or some offshoot of the franchise. At least one thing about it can be laid to rest though, as the Xbox One's first Halo installment will indeed be Halo 5, but that 'Guardians' sub-title and the key art released today raise a whole lot more questions than they answer.
For starters, who are the guardians? And who is that mysterious, blue-visored character in the artwork? Why is that character shown over the Master Chief, the series' usual star?  Unfortunately, we don't know the answers to any of these questions just yet, but the artwork definitely leads you to believe that there might be two playable characters in a Halo game once more (remember the Arbiter in Halo 2?)- and possibly, the main star of the game might not be the Chief.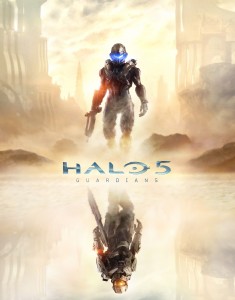 Lots more to come on this one as we head into E3 next month and it is supposed to see the light of retail day this year sometime, so stay tuned. We'll have the latest for you on what's sure to be a very big game indeed for Microsoft's new console as it happens.