Sharkoon's latest gaming mouse follows up on their popular Drakonia model with some extra features and a brand new 'dragon skin' design.
We've reviewed a lot of gaming mice here on BG, but the original Drakonia mouse wasn't one of them. Sharkoon says that the first in the line was one of their most popular pieces of hardware though (hence a followup), and from what I've seen from the Drakonia Black, it's pretty easy to see why. Not in the realm of the more insanely over-packed with features mice that have pervaded the industry over the past few years, the Black is nonetheless solid in the way of bells and whistles and is extremely well made.
One of the first things you'll notice about the device is that it has a very distinctive 'skin' on it's topside. The coating is meant to resemble dragon scale and it really does quite nicely. unlike you might imagine dragon's scales to feel though, the Black's skin has a smooth and rubbery feel to it that's great when playing and equally as comfortable when just mousing around web pages or working on something in Office. Basically, the print of the scales is just that, a printed graphic that's overlaid onto the mouse and not something that's a 3D effect, as I had originally thought it to be. Honestly, that's probably a good thing as I can't imagine a bumpy and scaled surface would have been all that comfortable to use- though I do have to admit just a little bit of disappointment at the deco of the little device.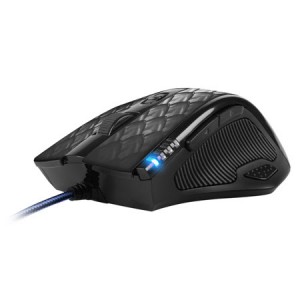 Decoration aside though, the Black is a slick mouse. The main body features quite a number of buttons and switches for something that's not 'in your face' or branded with a popular FPS' name. The thumb side sports two top and one bottom button, which allows for pretty effortless swathing between web pages out of games and whatever else you might like to hot-swap while playing. This panel also has a rubbery, gripped sections that feels super-comfortable and is kind of fun to play with all by itself. Kind of like a thumb-massager…
The opposite side of the Black is similarly constructed in that it has the same ribbed padding, which is likewise very comfortable to lay your pinky across. You won't find all that many switches and buttons on this side though, as there's only one lonely clicker at the end of the panel. My dexterity with my little finger is pretty much nonexistent anyway, so this wasn't all that big of a deal for me, but depending on your feeling it may be a little too lacking. Also worth noting here is that the main body of the Black, and the way it curves in, is a little narrow and might underwhelm a wider hand- it did mine.
On top of the mouse, you'll find the standard pair of mouse buttons as well as a really nice click-wheel and DPI up/down switch. Mouse 1 and 2 are standard in their design (though they do have a nice smooth feel to their operation), but I can't say enough about the click-wheel. Nice and wide with a heavy feel to it and a deep satisfying 'click' when you depress has this one feeling better than a mess of mice that I've tried in the past.
The wheel also clicks from side-to-side and obviously scrolls back and forth. There really isn't too much that you can do in this day and age to dress up a wheel on a mouse, but the Black does a great job making the standard look and feel great. Likewise, the DPI selector is nice and clicky and moves easily, but not too easily. That's a good thing but the way, as it means you probably won't be hitting it by mistake in an intense gaming session. There's a corresponding light-up panel on the Black that tells you which mode you're in, which is also retry standard nowadays, but still cool looking.
And that DPI sensor is actually pretty great too. The Avago ADNS-9800 laser sensor that's built in can read up to 8200 DPI and can seriously cook when it needs to. I had this thing cranked up to max speed and felt like I could barely see my cursor as it zipped about the screen. So will you have the same selection of speeds as other brands? Yes, pretty much. The Black performed and did pretty much anything that I needed it to do throughout its four different speed settings. More so in some cases.
I also said that there's not really too many of the bels and whistles that you'd find on the crazier gaming mice, and that's true. Even so though, the Black manages to add a little flair in a really cool glowing effect on the body (the dragon logo lights up and looks great) and the visual element of the DPI selector. There's also a weighting system built into the rear of the mouse that works as you'd expect it to with six removable weights so you can customize the mouse heft to your tastes.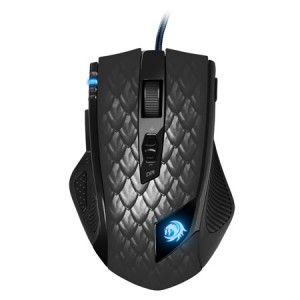 The software included with the Black allows for even more customization as all "11" of the mouse's buttons are fully tinkerable. You can select different options for each and build the 'load out' of the Black as you see fit; which is something that, if you're big into PC gaming and like to have personal layouts for your games, is pretty much essential.
Final Thoughts
I liked the Drakonia Black a lot more than I thought I would when I popped open the box. Then again, I probably shouldn't be too surprised by that since I've used Sharkoon products in the past and really liked them in spite of the fact that I'm a bit of a 'looks' addict and thats not the company's focus. That's not to say that the Black (or really any other Sharkoon peripheral) is ugly or insipid really, they're just fairly straight-forward and all-business to an extent. Kind of ironic when you consider this particular mouse is named for its 'dragon-skin' effect.
Turns out, all-business is not really a bad thing at all as this is maybe the fourth or fifth item from their line that I've had the chance to play around with and really dug. If you're looking for a gaming mouse that looks neat without being over-the-top and can be used in both professional as well as play settings, this is a great choice.
In either capacity, the Drakonia Black has more than enough going on under the hood to be a terrific all-around mouse.