What, you though Van Helsing was the only one who went bump in the night wearing a mask?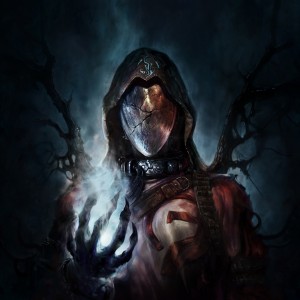 NeoCoreGames' Van Helsing sequel gets more interesting all the time. The developer has revealed a few little tidbits about the game so far, and now they've taken wraps off of one of famed monster-hunter's main allies in the new game, Prisoner Seven. Well, sort of anyway.
Prisoner Seven is kind of a mystery with little known about the character, even to Van Helsing and his team. The character is a vigilante, that much we know, and he operates in the city of Borgovia fighting the evil machinations of 'Weird Science'.
So you thought that one mysterious stranger would be enough for a city like Borgova? Well, you were mistaken. Van Helsing, fabled monster-hunter and current leader of the Resistance has now a new ally, and he has to accept that he is not the only one wearing a mask around here.

There is a faceless man with magical powers hunting the streets of Borgova, helping the battle against the armies of Weird Science. But what is he exactly? Monster or victim? The former test subject of the mad professors, or "Prisoner Seven", as the Resistance fighters call him, is a secret in himself, but Van Helsing needs his help before his new arch-enemy, the powerful General Harker destroys everything he was fighting for…
Growing on the original in just about every way, The Incredible Adventures of Van Helsing II is shaping up to be something that action/RPG gamers should definitely be keeping watch for in 2014. We reviewed the original game here and we'll have plenty more on the sequel before it sees release on the PC and Mac some time later in 2014.