The long, strange saga that has become the Duke Nukem IP just gets weirder and weirder.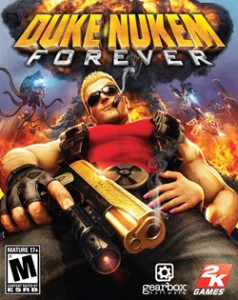 Once one of the greatest characters and property's in gaming, Duke has fallen a long way. First Gearbox (makers of the Borderlands series, in case you forgot) bought the Duke Nukem IP from former owners and creators 3D Realms in a move that's described as a 'bail out', then the former company published the universally panned Duke Nukem Forever and basically killed the brand for good. …sorry, I was a big fan and it's probably influencing me somewhat.
Though, even with that in mind, that's pretty much the only thing that comes to mind when I think of what's happened here so far. But to say that Duke ends there is a misstatement as a whole new level of mess has opened up. News broke recently that 3D Realms, who only owns the rights to already released Duke games like the classic D3D, had contracted Interceptor Entertainment to create a new isometric Duke shooter called Duke Nukem: Mass Destruction.
See anything wrong with that?
If you think that Gearbox rapidly filed some cease and desists, then you'd be on the money. The lawsuit from the Pandora creators actually says that 3D Realms, after the sale of the IP in 2010, tried to actively convince people that that sale never happened. Insert facepalm here. The statement then goes on to poke fun at 3D Realms, pointing put the fact that the company failed for years to push the famously delayed game out the door and saying that the code that Gearbox inherited was loaded with issues and bugs.
Right now, there isn't too much more info than that other than the fact that a website still exists for Mass Destruction. It's status, along with the game in question, is still up in the air long term. I can't really see an instance where Interceptor's game actually would come to market though as this seems, at least on the surface, as a pretty cut and dry case.
Stay tuned Nukemites… if there are any of you left out there.
Source: MCV