Series 2 of Dark Horse and HBO Global Licensing's figures based on the hugely successful novel series turned television show will be hitting stores this Summer. We've got shots of the full lineup after the jump.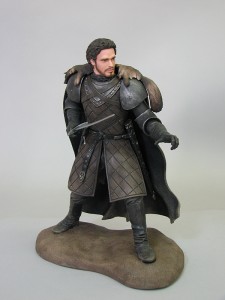 What's to say really about Game of Thrones? The show and the books alike are juggernauts, amassing new fans with every installment. The HBO series is such a runaway in just about every sense that it's almost become a kind of weekly holiday for watchers, who wait patiently for each and every airing of a new episode during the series' short 10 episode seasons.
We're actually not all that far off from the debut of season 4 of the show either, which is based upon the second half of the third book of the George R.R. Martin saga (got all that?). Season 4 kicks of this April, but the second full lineup of toys from Dark Horse won't be hitting shelves till this July. And though the wait ail be a little longer than the one to see the fallout from the end of the civil war, this is an all-star lineup well worth a place on just about any fan's shelf.
Series 2 includes:
Cersei Baratheon
Arya Stark
Robb Stark
Jaime Lannister
White Walker
"The Jon Snow and Daenerys Targaryen figures were snapped up by the fans, and the April releases are already highly anticipated," Dark Horse Product Development head David Scroggy remarked. "We will continue to make these nonarticulated figures, in order to capture all of the small details that would be at risk in a traditional jointed action figure. No corners have been cut in achieving realism and faithfulness to the HBO series."
Snow and Targaryen are available right now only if you get extremely lucky and can actually find a couple hanging around somewhere. The rest of wave 1 will indeed be in stores this April too, to coincide with the debut of season 4 of the show. That wave includes some monstrous fan favorites as well with the likes of Tyrion Lannister, Khal Drogo and the late great Ned Stark filling out the roster.
After July's releases hit, Dark Horse will have a third series ready to go for November too. There haven't been any mentions yet as to who might be included in that selection, but as always- we'll keep you posted.