Giving big; Dark Horse Comics donates an entire digital comic collection to the Children's Cancer Association.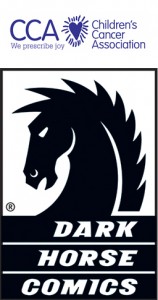 It's always nice to see a company giving back and all that much nicer when it's as great a cause as this. Helping kids with cancer have a brighter and happier day, Dark Horse Comics donated the entire Dark Horse Digital collection to the Children's Cancer Association. Just in case you're wondering, that's some three-thousand individual books.
In addition to that heady gift, Dark Horse has also donated a quartet of Apple iPads to the group for use in reading that pile of comics. The devices will be loaded with Dark Horse comics right off the bat and even include an age gate to prevent younger readers from seeing the more mature content that the publisher stocks.
Nestled in Dark Horse's hometown, the CCA partners with six Portland area healthcare providers including Randall Children's Hospital at Legacy Emanuel, Doernbecher Children's Hospital to offer completely free services and care for children stricken with cancer as well as their families. They've also been expanding and now boast programs that reach across the country and into a total of 33 hospitals nationwide.