What IF: Age of Ultron will explore the tale of universe altering and robotic oppression fro a very different angle.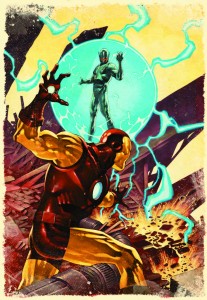 Marvel is being a little coy with the overall focus of their latest What If, alternate reality title. Plot aside, it looks like they're planning on making the book a pretty serious event since the miniseries (is that a first for a What If?) will stretch five weekly issues and be way deeper than most of the What If's of the past, which have traditionally been only single issues or graphic novels.
If you thought the Age of Ultron turned the Marvel Universe on its head, you won't believe what will happen in WHAT IF: AGE OF ULTRON, a mind-bending five-part series from Marvel Comics! They say one person can truly make a difference, and that statement couldn't ring truer for Earth's Mightiest Heroes. So what if another founding Avenger had died in the Golden Age of Heroes instead of Hank Pym? Could the reality we know endure without one of its strongest pillars? The short answer is—NO!

Each issue of WHAT IF: AGE OF ULTRON explores a Marvel Universe without one of it's greatest champions. Imagine—an Armor Wars without IRON MAN! A RAGNAROK without THOR! A country without CAPTAIN AMERICA! Written by rising star Joe Keatinge (Marvel Knights: Hulk, Morbius: The Living Vampire) and an assembly of tomorrow's hottest artists, WHAT IF: AGE OF ULTRON hits hard with its twisted takes on the Marvel Universe!

Was the Age of Ultron truly the darkest reality that the Avengers could endure? Find out this April, as Marvel burns the rulebook in WHAT IF: AGE OF ULTRON!
Enigmatic enough for you?
Check out the first issue of What If: Age of Ultron when it hits the stands from Joe Keatinge and Raffaele Ienco on April 2nd. The art chores will trade hands with every issue, which is kind of cool too as Ramon Villalobos will take on issue 2, Mico Suayan will take part 3, Piotr Kowalski will  pencil the 4th issue and Ming Doyle will round things out and finish the tale up in part 5. Both issue 4 and 5 are interestingly set for release on the same day – April 23rd, meaning that the full Age of Ultron What If story will start and end in the fourth month.