Kickbeat Steam Edition will be the, uh, Steam edition of the rhythm/action game currently appearing on consoles from Zen Studios.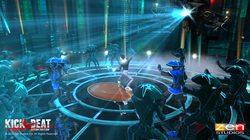 Zen's latest is nothing if not innovative. Kickbeat allows players to kick some butt to some blasting tunes on both the PS3 and the PS Vita and now it's on the way to the PC via Valve's Steam store. Kickbeat Steam Edition is getting tune-d up from it's previous console release, so this isn't exactly the same title that you may have already played.
Featuring six new musical tracks from indie game Electronic Super Joy by EnV, you'll be jamming and beating down baddies to some new high-energy mixes. Those new songs by the way, join stuff already in the game from artists like "well-known bands such as Pendulum and Marilyn Manson, to indie pioneers Celldweller and Blue Stahli, to hidden talents like electronic music producer Voicians and Taiwanese rapper Shen Yi".
Zen Studios has also listened to the fans of the console version of Kickbeat and added Advanced Difficulty Mode to the Free Play section of the game, opened up the Beat Your Music Mode (where you can upload your own tracks) much earlier in play and made some tweaks to the learning curve to better help players tune themselves to the amping up difficulty as the single-player game progresses.
But that's not all! Kickbeat Steam Edition also sports "enhanced visual fidelity" as well as keyboard controls (that you can customize) in addition to controller support and all the Steam Trading Cards, Achievements and Steam Cloud functionality that you could ask for. Check it out when Kickbeat Steam Edition lands a roundhouse on the PC on January 20th for $9.99 USD.