Vizio has just announced their new Reference Series of televisions at CES 2014. If you're wondering what that means, they basically include everything they  could think of putting into a TV. Oh, and maximum screen size for the line? 120″.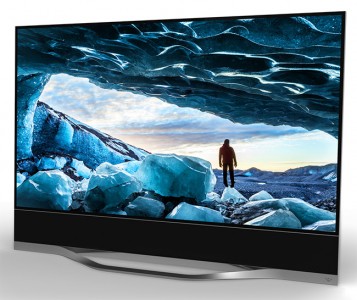 I'm having some serious fantasies at the moment of hooking some games up to this monster… give me a second… okay,back with you. The 120″ set is obviously the eye-catcher here on Vizio's newest lineup of televisions (it's 9′ wide!!), but there's actually a lot more going on than just the sheer monolithic size of the new series' flagship model.
Vizio CTO Matt McRae explains:
"VIZIO started with a clean sheet of paper and asked, 'what would be the ultimate TV if there were no limitations or need to compromise?' The result is the all-new Reference Series, which represents two years of research and development across every aspect of the platform," said Matt McRae, Chief Technology Officer, VIZIO. "The video system is a fusion of state-of-the-art picture processing and numerous new engines, creating an outstanding picture and offering granular user control. The integrated audio system features a 5.1 sound bar that rivals the best home theater solutions. The combined result is the best-in-class entertainment experience that sets the new benchmark by which all other TVs will be measured. In the case of the truly cinematic 120″ Reference TV, that measurement is huge."
Huge indeed. Having a TV that big (at the top end of the line) is one thing, but having it actually be a fully-featured rig is something else. And baby, are these things packing. The full spec list is extremely impressive including not just the aforementioned 5.1 soundbar built-in, but also Ultra HD capability, a quad-core GPU plus dual-core CPU and Vizio's own Ultra-Color Spectrum to make colors look as good as you might expect them too.
There's no official release date as of yet for any model in the new Reference Series (or for that matter, pricing), but we'll keep you posted. In the meantime, have a look at the full spec rundown from the press release and then proceed to dream about playing Titanfall on this beast of a TV. Well, that's what I'll be doing anyway…
Color: Ultra-Color Spectrum and True 10-Bit Color

VIZIO's Ultra-Color Spectrum fully supports true uncompressed 10-bit color for the most life-like colors ever seen on a TV. Unlike most TVs, which can only reproduce a conventional color gamut of Rec 709, Ultra-Color Spectrum in the Reference Series widens the color gamut, rendering colors closer to a level the human eye can discern. Full 10-bit color enables over one billion color shades for the most life-like imagery. Collectively, these technologies push the boundaries of color and contrast to create an entirely new level of realism.

Contrast: Active LED Zones x 384 and High Dynamic Range

Along with the ultra-bright, 800 nits backlight, the Reference Series features Full-Array LED backlighting with 384 individual local dimming zones known as Active LED Zones, which dynamically adjust to match on-screen content for the deepest, purest black levels and highest contrast. VIZIO was one of the industry's first to implement Full-Array LED backlighting in its TV collections, and over the years has continued to invest in the technology to advance local dimming capabilities to new levels of performance and definition. For 2014, all VIZIO TV product lines will support Active LED Zones, with the Reference Series serving as the pinnacle of local dimming performance with 384 zones. In addition, Active Pixel Tuning delivers intelligent brightness adjustments at the individual pixel level for increased picture accuracy and contrast.

Analyzing the lightest and darkest areas on the screen and extending the dynamic range without loss of detail in bright or dark areas, High Dynamic Range creates a contrast range with true-to-life intensity, more accurately reproducing the nuances of the picture and revealing fine details found in real scenes. Working together with an Ultra-Bright LED Backlight of 800 nits, the Reference Series delivers an unprecedented range of contrast with nearly twice the luminance of standard HDTVs.

Clarity: The Ultimate Ultra HD Experience

The Reference Series also includes a suite of technologies that deliver the industry's best Ultra HD performance. VIZIO's Spatial Scaling Engine beautifully upscales 1080p Full HD content using multiple vectors of data analysis, creating extraordinarily accurate detail in every image. Optimized for unparalleled Ultra-HD streaming, the Reference Series is equipped with 802.11ac dual-band MIMO wireless for the fastest, most efficient streaming experience possible. Support for HEVC codec enables VIZIO Internet Apps Ultra HD streaming from UHD-enabled apps, and HDCP 2.2 Security Protocol allows for protected playback via HDMI from Ultra HD players and next-generation game consoles. The Reference Series was designed to allow consumers to enjoy the full range of growing Ultra HD content options in the market, without the need for add-on devices. Consumers will notice brilliant clarity thanks to Ultra-fast Clear Action Rate 1800 which is measured using high-speed effective refresh rates and precise synchronization of backlight scanning to enhance motion clarity and deliver incredibly crisp fast action scenes. Additionally, the latest HDMI standard has been incorporated and delivers the added bandwidth of 60 frames per second required for fast action Ultra HD content.

VIZIO V6 Processor and Advanced Picture Engines

Underneath the hood, the Reference Series is powered by the new V6 six-core processor. Comprised of a quad-core GPU plus dual-core CPU, the processor delivers advanced graphics processing and even faster Smart TV user experience. In addition, the dedicated VM50 Ultra HD motion and picture-processing engine enhances every Ultra HD image with incredible detail. At the pixel level, the Pure Pixel Processing Engine (P3E) further enhances sharp detail and gamma control, while reducing noise and artifacts caused by scaling, compression and video devices.

For consumers who are passionate about content, the performance of the Reference Series also makes available two unique viewing modes: High Velocity Mode which enables the TV to display an ultra-fast 120 frames per second over HDMI, ideal for fast action video or gaming content, and Pure Cinema Engine for a true film-watching experience. With Pure Cinema Engine, the Reference Series presents films in their native 24 or 48 fps for the most authentic cinematic experience.

Innovative 5.1 Surround Sound TV

Not only does the Reference Series deliver on best-in-class picture quality, but the collection also offers premium audio performance for the most epic and immersive built-in home theater experience possible on a TV. First-ever integrated 5.1 sound bar with 101 dB and less than 1% total harmonic distortion2 combined with a powerful 10″ wireless subwoofer, and two rear satellite speakers, the Reference Series offers beautifully engineered sound. Complementing the high performance audio is Dolby Digital and DTS Digital Surround®, for a truly cinematic home theater experience.

Craftsmanship of Design

The Reference Series by VIZIO sets a new bar and carries forward the brand's 'Beautifully Simple' philosophy with its high-end style and meticulously detailed craftsmanship. Featuring a minimalist, modern industrial design and ultra-slim bezel, The Reference Series is hand-assembled with the finest materials and innovative construction. With the near edge-to-edge 120″ diagonal display on the series' largest model, the TV, including sound bar and sound base, stands at over 6 feet tall and nearly 9 feet wide (74.8″ H x 106.9″ W), and sits atop a solid metal base that is first die cast, then CNC-machined for several hours to perfect the surfacing and finish for a luxurious look that commands attention in any home theater. The innovative modular design of the stand also allows for the beautifully integrated sound bar to be displayed separately both wall-mounted or on a display table.

"With Reference Series, we set out to build a TV that's not only more advanced, but more beautiful than any TV before it," said Scott McManigal, Vice President of Industrial Design, VIIZO. "From its ultra-thin bezel and aluminum frame to its elegant and organic?machined base, every detail of its design is crafted from premium materials, with meticulous attention to detail, to achieve the highest aesthetic standard."