The toy giant has been a big time supporter of Activision's Skylanders franchise and that's not about to change with the introduction of Skylanders SWAP Force.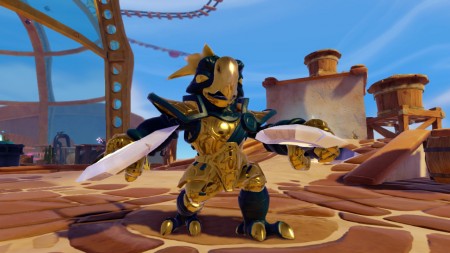 Toys R Us will be the only retailer offering the special Legendary series of SWAP Force figures, including Free Ranger and Night Shift. Legendary Skylanders are more than just repaints too as the figures feature special powers and enhanced abilities that their 'standard' counterparts don't.
Legendary Grim Creeper (Lightcore) from Activision Publishing, Inc.

Kids will be excited to take home this brand-new Toys"R"Us exclusive SWAP Force character as part of the limited edition Legendary Series. Legendary Grim Creeper is an alternative version of the new SWAP Force character with unique, enhanced in-game powers. Grim Creeper is considered to be one of the best reapers ever to swing a scythe in his quest to defend the Skylands. Whether using his scythe to eliminate enemies the easy way, or employing his suit of armor to produce a mega hard attack to triumph over even the toughest adversaries, kids are sure to love this undead Lightcore character. No batteries required. Ages 6 years and up.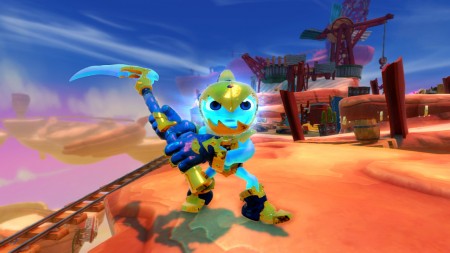 Legendary Free Ranger from Activision Publishing, Inc.

Along with the same abilities as the new, original Free Ranger, this exclusive Legendary version features more lightning fast power. Fans will be taken on a high velocity adventure with Free Ranger as he battles with earth, wind and fire to protect the Skylands and reach his destiny as the greatest storm chaser in the land. Free Ranger is known for his ability to chase hurricanes, spin inside tornados and ride lightning, as well as for his catchphrase, "Whip Up a Storm!" No batteries required. Ages 6 years and up.
And TRU will be going big yet again for the brand as they introduce SWAP Force with a massive celebration kicking off in NYC's Times Square tomorrow at 3pm. True, Skylanders is just a marquee series in general and has all kinds of attention, but it's especially true for Toys R Us as they carry both toys and video games and can really capitalize on the game/toys from both avenues.
"Activision has been a pioneer in the toy and gaming world, and with the highly successful launches of Skylanders Giants and Skylanders Spryo's Adventure, the virtual and toy worlds collided to bring toys to life – much to the delight of its now incredibly devoted fan base of kids. Skylanders SWAP Force now takes that innovation a step further, offering this concept with a whole new twist – customization," said Richard Barry, Executive Vice President, Chief Merchandising Officer, Toys"R"Us, Inc. "As evidenced by its place as one of the 'Fabulous 15' on our Holiday Hot Toy list, we believe that Skylanders SWAP Force will be one of the most sought-after products to hit the market this holiday season. Once again, we applaud Activision's ingenuity and are proud to continue our strong global partnership with the brand, allowing us to bring the game to millions of enthusiastic young fans around the world."
Toys R Us shops will also be opening their doors early for the launch of the game to better facilitate all-day gaming sessions this Sunday. Fans can get their copy beginning at 8am at Toys R Us' in the US and at the stroke of midnight on Sunday the 13th on Toys R Us website. You can also find both exclusive characters up for pre-order right now at that same link.