That mysterious Ace of Spades card that first made the rounds to the press and is now a promotional item at the Eurogamer expo has a website all its own.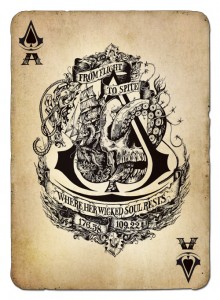 If you are at the Expo this week, head over to the Ubisoft, Sony, or NVIDIA booth and play one of the three demos for Assassin's Creed IV: Black Flag that are available at each spot. You'll then be on the receiving end (as long as supplies haven't run dry) of an Assassin's Creed-themed Ace of Spades card. The cards are illustrated by London-based artist Vic Lee and are very cool (as you can see to the right).
Once you have your card (or even if you don't really) head over to the all-new Ace of Spades site. There you'll be able to do a whole bunch of stuff including grabbing some "limited edition t-shirts, limited edition numbered custom prints from Vic Lee, other exclusive Assassins goodies and – most importantly of all – help Assassin's Creed fans unlock an exclusive Black Flag reveal!"
And while that's probably not the whole story as goes the card, winning free stuff is always nice, and who wouldn't want to know a little more about that piratin' pal to all (except Templars) Edward Kenway.