Ultimate Spider-Man will be making his debut on Disney's flagship channel with a Halloween special that's loaded with some howling commandos. No, not those Howling Commandos…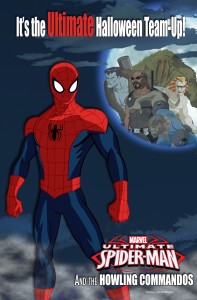 I'm talking about the monstrous kind as Frankenstein, Blade (the vampire hunter/vampire), The Living Mummy, Man-Thing and Werewolf by Night all guest-star in the special episode of Ultimate Spider-Man. Why the team-up? To take on the most dreaded menace that's ever gone bump in any the night- Dracula.
"This is the biggest event in Ultimate Spider-Man history," said Jeph Loeb, Marvel's Head of Television. "We've brought Spidey together with our greatest Supernatural heroes and some of the hottest names to voice them. We're hoping families turn down the lights and turn up the volume for our spookiest special yet, courtesy of Ultimate Spider-Man!"
The 'spooky special' is actually the first time that all of these characters have appeared in an animated show together, which is pretty cool all by itself. Marvel looks like they're doing it up right with some great character designs for the show and an 'all-star' cast that actually does have some big names. I'm actually really impressed by the look of all of the characters Marvel chose for the show too. In particular; Man-Thing, Blade and Werewolf look really great and play off of their comic book counterparts well.
As for that cast, the voice actors include The Disney Channel's own Ross Lynch as Jack Russell (Werewolf), Terry Crews as Blade and Oded Fehr as the Living Mummy. Cool little side-note? Fehr played Ardeth Bay in both 1999's The Mummy and it's sequel, The Mummy Returns. So to say that the man has experience with the bandaged-dead might be an understatement.
Look for this special one-hour episode of Ultimate Spider-Man to air on the Disney Channel on Saturday, October 5th at 9pm. The show will then be re-broadcast on Disney XD in the Marvel Universe block on the channel. Catch that on Sunday, October 13th at 11am.
And if you just can't wait to see Spidey in action with his howling commandos, you can grab a sneak-peek at the first half of the episode off of iTunes starting on Monday, September 30th- the download is free too, which isn't scary at all.