Wolverine and Silver Samurai mano-a-mano and some very big secrets are uncovered in the 11th issue of Marvel's digital-only epic.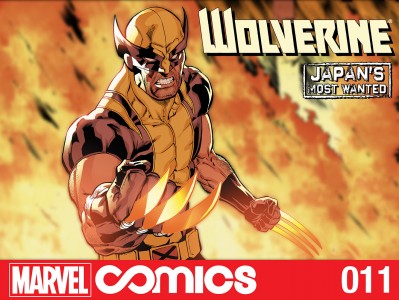 Logan's long journey through Japan is almost at its end—but first he must carve through a defiant Silver Samurai! As searing swords and claws slash through a deadly inferno, will it be for the final time? Designed specifically for mobile devices while fully embracing the technologies of tomorrow, Marvel's offering its all-new weekly digital comic content in style. Accessible for new fans, but also set in current continuity with ramifications in WOLVERINE & THE X-MEN, WOLVERINE: JAPAN'S MOST WANTED tears through the new storytelling possibilities that make Infinite Comics so exciting.
I love the fact that this book is in continuity and actually has a story that matters to Wolvie and his fans. I know I've said it, like a million times already, but that's a bold move that more 'digital only' comics should really get into. One-offs and 'special editions' set in alternate universes are great and all (really- not complaining), but digital books will only really start to soar with folks who don't want to give up their physical copies when companies like Marvel start to offer stuff solely at the digital level. It's a brave new (comics) world.
In any event, Wolverine: Japan's Most Wanted #11 is on sale now through the Marvel App or the Marvel Online Storefront. Grab one for yourself and sink your claws into the penultimate of this series today.