The veil of mystery falls around the Castle of Illusion Starring Mickey Mouse remake from Sega as the game is available now.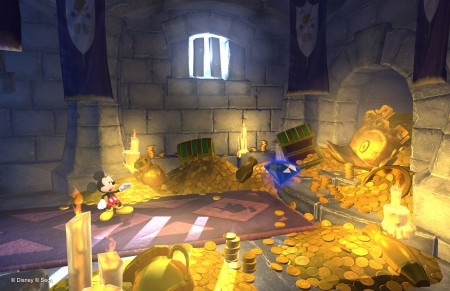 Last seen all the way back in 1991, Castle of Illusion holds a special place in the hearts of many gamers from that era as one of the best platformers in history. I remember not only playing the heck out of it on my Genesis, but also wearing out more than a few sets of batteries on the Game Gear version. Man, that console ate batteries… Now Mickey Mouse is back in action is a game that re-imagines the classic with all new graphics and sound.
"We enjoyed working closely with Disney Interactive to update this classic title," said John Cheng, President and COO, SEGA of America. Whether they played the original on the SEGA Genesis or just discovering it for the first time, we really hope the fans will find our re-imagining of Castle of Illusion a magical experience."
The game is absolutely gorgeous as far as platformers go with a beautiful hand-drawn look. I had the chance to play a bit of it at the SDCC this past Summer and enjoyed it for more than just the sense of nostalgia. Yes, it feels like the classic game, which was definitely super-important for this updated edition, but from what I played it has enough new stuff (it is basically an entirely new game) to please modern gamers too.
Castle of Illusion Starring Mickey Mouse is available right now on the PSN and will be released tomorrow on Xbox Live and the PC from Sega and Disney Interactive. It'll cost you $14.99 USD.