The celebrated cartoonist adds his talent to a special variant cover for Valiant Comics' Harbinger #19.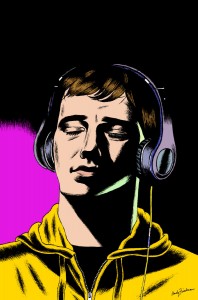 Andy Friedman is a pretty famous name in cartooning circles. The penciler has contributed to such magazines as The New Yorker, Rolling Stone, The New York Times Magazine and The Atlantic. He's done portraits of cultural icons that've appeared in papers and periodicals around the globe too- and you might not know that the man is also a songwriter. Yep, Friedman has a trio of recently minted albums to his name including 2007's Taken Man, 2009's Weary Things and 2011's Laserbeams and Dreams.
So the bottom line, is that the man's done a lot in his career(s). One thing he hasn't done though, is a comic book. Well, till now anyway. Friedman's cover work on Harbinger #19 is a look at the man behind the hero that is the leader of the super-team known as the Renegades- Peter Stanchek.
"The opportunity to present the human side of Peter Stanchek was interesting to me. The [Harbinger Renegades] are a group of outcasts, which makes them instantly relatable, because I would venture to guess that feeling like an outcast is something that we all feel at times, some perhaps more than others," said Friedman. "When we come to terms with the positive aspects of what might set us apart from the rest of the people, we begin to celebrate our unique existence in the world, and only then do we tend to discover and put to good use our true powers and purpose. Harbinger reinforces this truth and it's a healthy metaphor, the way I see it."
Though Friedman will be contributing the cover art, series fans already know who's work is on the interiors. Artist Barry Kitson and writer Joshua Dysart will be crafting a tale to cap off the Perfect Day storyline  in style. It's a big tale that Valiant is proclaiming to be one of the tensest and most 'mind-bending' of the series. That's something that's saying a lot after the recently concluded Harbinger Wars crossover almost blew Las Vegas off the map. To the side of the climactic ending of Perfect Day though, Friedman's cover is more of a new look at Harbinger's main character from a side that fans probably haven't seen as of yet.
"Andy is a singular artistic talent. He's delivered an incredible new vision of the world that Joshua Dysart and Barry Kitson have been building with this series. His inimitable depiction of Peter Stanchek – who he's captured here not as a superhero, or a Renegade, or an omega-level Harbinger, but as an everyday teenager – is the perfect way to cap off the end of our tensest, most mind-bending story arc yet," added Valiant Executive Editor Warren Simons.
Look for Harbinger #19 to bring the Perfect Day to a close (complete with the Friedman variant cover) on December 11th from Valiant Comics. And if you'd like to read a little more about the artist's thoughts on the book and his entry into comic books, click here to go to Valiant's main page for a full interview with him.